Do you want to extend your SUP paddling season into the fall? Check out this short guide that will have you prepared (and safe) while paddling in the fall!
————————
Labor Day has come and gone. And to most this means the end of Summer. Kids go back to school, there's a slight chill in the morning air, and just a little bit more of the leaves start to fall off from the trees.
The average person uses this time to transition from quality time outside to keeping indoors, staying warm, and catching up on their streaming.
But you're not the average person, are you?
You're an adventurer. A ground breaker. A rugged individual who sees the turn in seasons as just the next challenge. The next exciting escape.
Of course you'd think that way – why else would you be here?
At Atoll, we're the same. We see the change in season as just a slight modification to the clothes we are wearing and a slight uptick in the precautions we must take to keep adventuring on, and keeping paddling, well into winter.
Over the years we've compiled many hours on our Atoll boards and through it all we've learned a ton. If you are familiar with our weekly blog posts, hopefully you've been soaking up some of the lessons learned. But this week, as we expect the weather to keep on changing, we're going to go over a tips you can take to make sure you can paddle in the fall, and do it safely.
Let's begin!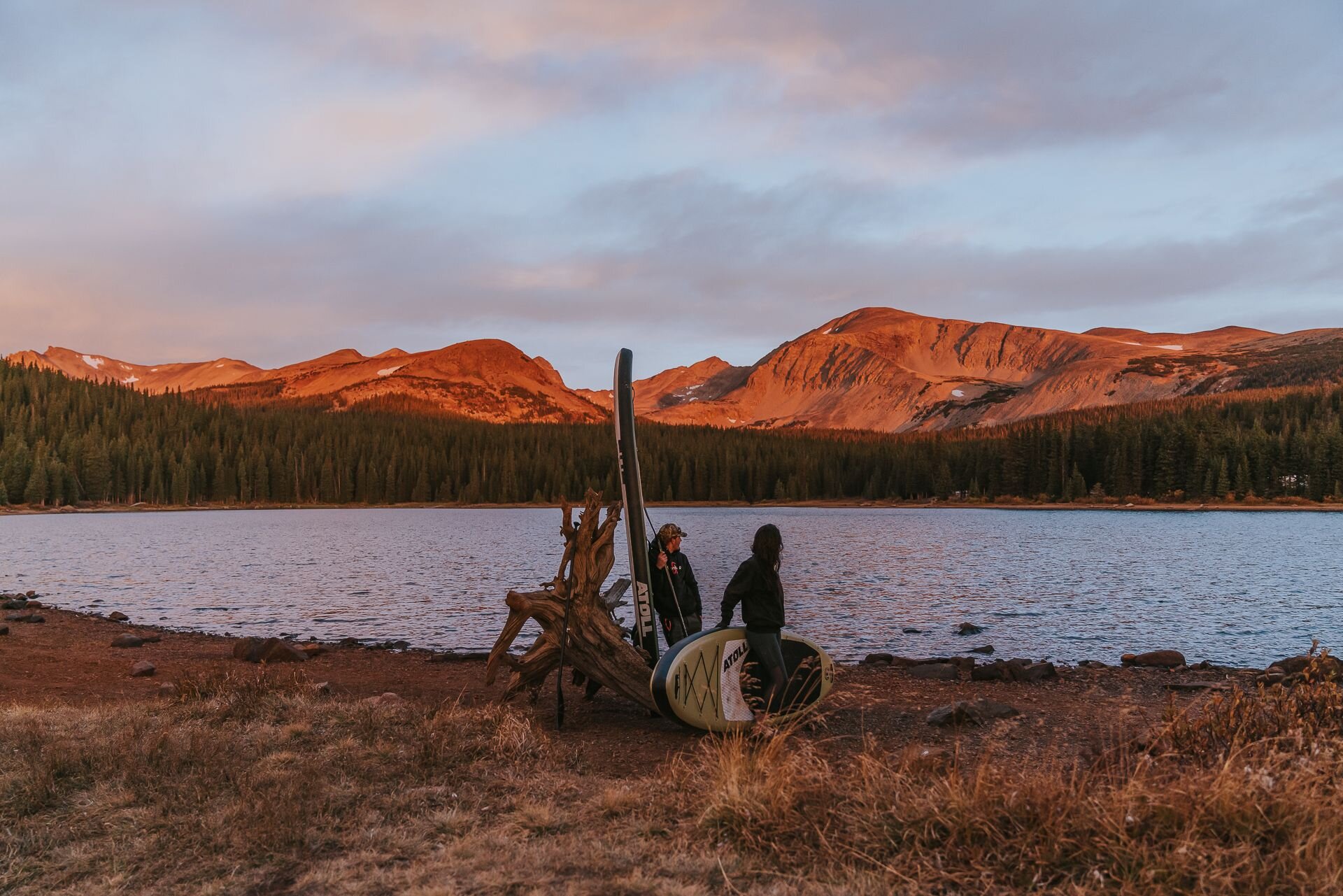 1. Remember the Fundamentals
No matter where you're paddling, what weather you're paddling in, or who you're paddling with, always remember the fundamentals – the easy precautions you should take to safely get on the water.
This includes packing and wearing a PFD, leash, dry bag for personal goods, first aid kit, and if you can, a waterproof carrying case for your phone in case of an emergency.
With these covered, you'll be safe no matter where you are.
2. Know Before You Go
It goes without saying (but we'll say it anyway) – when the weather begins to get colder, you must alter your clothing and gear to follow suit.
This can include a full wet suit, dry-suit, or maybe just booties if you are feeling confident in your paddling abilities.
How do you determine what you should be wearing?
Check the weather of course! But beyond that – check the water temperature.
To conveniently check it, we recommend carrying a pocket thermometer like this one to easily determine the type of clothing you will need before you head out. And more specifically, if you need to put neoprene on and how thick it has to be in order to stay warm.
Of course, if the ocean is your main choice of paddling location you can always check certain websites like Swellinfo or Magicseaweed. They have the water temperatures listed at the top and also a suggestion of the type of wet suit you should be wearing – very convenient!
And if you would like additional information on the types of clothing you should be wearing while cold-water paddling you can take a look at a past blog post we wrote entitled, "How to Dress for Cold Water Paddling (Even If You Don't Have a Full Wet-suit)."
3. Stay Hydrated
In the summertime, it's easy to know when you need to drink water. Most of the time you're bathing in the hot sun and sweating profusely – especially if you are paddling.
But as the days become colder for fall SUP paddling, we often don't notice when we might be running low on important hydration and electrolytes.
To avoid any dizzy spells or feelings of imbalance, always bring a water bottle with you and sip it throughout the day. The best place to store it of course is under the bungees on your Atoll iSUP.
4. Learn Rescue Techniques
When the air temperature gets cold and the water becomes colder, any slip, fall, or accident is amplified in danger. Instead of splashing around in a fun water environment with your swimsuit on, you're immediately put into a dangerous situation with water temps that can drastically lower your body temperature.
To avoid any problems, first, refer back to our previous point and dress correctly. But beyond that, learn the basics.
A simple CPR/AED class taken at your local community college or other community-based locations will serve you well if you're paddling with friends should something unfortunate happen.
Another great technique to understand and implement is pulling someone back on their board if they are having a difficult time remounting. This can drastically shorten the amount of time they spend in cold water.
Rescue Technique
We'll try to explain the technique but the best thing to do is to take a look at this video here for a complete breakdown.
First, you want to flip their board upside down and bring it next to them. Then grab both of their hands and bring them over the board with your body on the opposite side. Keeping their hands in, you put your knees on the rail closest to you and push down. This will raise the board up and essentially flip it resulting in the other person now being on top of the board and safely out of danger.
Again, it might be difficult to fully grasp the technique when it is in writing. We highly recommend taking a look at the video above to get a complete understanding.
Bonus tip – while the weather is still relatively warm (and the water too) practice the rescue technique for your fall SUP paddling so you have it down before having to possibly use it in a real-life survival situation.
5. Shorter Days, Shorter Paddle Windows
As we all know, when the weather begins to change, so does the time we get to spend in the sun. The days shrink, the cold sets in, and we're left looking for shelter come sundown.
Always plan an outing with this in mind. You do not want to be caught on the water in the dark. And you definitely don't want to be out there unprepared.
One way to mitigate this is to bring a headlamp or a flashlight with you so that you can find your way back to shore, or at least signal to other moving craft that you are on the water too.
And of course, as we seem to always mention – keep an eye out for the weather and the wind before you go! Especially on the wind. If it's anywhere between 10-15+ mph know that you're going to be in for a difficult paddle. Anything more than that, and you're best served to wait for another day for fall SUP paddling.
Conclusion
The last tip for fall SUP paddling – always have fun on your Atoll iSUP! Fall paddling can be a beautiful experience. Especially in areas where the leaves change color, the mornings are a little slower, and the nights around a warm campfire last a little longer. With these few tips in mind, your time on the water will be safe and fun.
And that's a perfect combination.
Questions or comments? Let us know! Send a message over to our inbox and we will get back to you as soon as possible. Until next time Atoll family – adventure on!