Are you looking for an epic adventure on your paddle board? Try the national parks! In this article we discuss 5 national parks to paddle board for an unforgettable time.
———————
Amidst the winding desolate highway. Past the pit stops and roadside gas stations. Away from the city that rumbles even while you sleep. Lay quiet places, full of beauty, solitude, and peace. In these places, nature is encouraged to spread. And the waters remain free of pollution and other waste. These areas are few but they do exist. And in this modern age, it is a privilege to be able to enjoy them.
The spots we write about are the National Parks of the United States.
Under former President Theodore Roosevelt, the United States government created the National Park Services. It began with Yellowstone National Park and grew to include 418 sites, including natural, historical, recreational, and cultural areas across the country.
As adventurers, our hope is to explore as many as possible from the platform of our Atoll inflatable paddle boards. And as we continue to make our way through the list, we will keep our Atoll Family informed.
Unfortunately, we have a long way to go. So, instead of imagining the possibilities of what is to come. We will instead focus on five of our favorite places. This list is a great place to start your own National Parks journey. And continue to grow your own experiences. Create your own memories. And live a SUP adventure lifestyle that will fuel tales of your adventures for years to come.
Let's get to it the 5 great national parks to paddle board!
Side Note: Click on the link in each section to learn more about the park/where to camp/and prices!
The United States' newest National Park and West Virginia's first. The New River Gorge sits nestled between lush forests, sheer cliffs, and marshy wetlands.
It is known for attracting around one million visitors a year where they participate in hunting, fishing, outdoor sports, whitewater rafting, and now – SUP!
The river is known to have a few rough spots. So make sure you talk to a ranger before pumping up and heading out. Unless of course, you're a seasoned river paddler and enjoy a challenge.
But for the average vacationer, head here to enjoy the views. The unkempt wildlife. And the sounds of the moving river. Spend the day, night, or even a weekend! There are plenty of places to camp.
Truly a hidden gem. The New River Gorge makes it onto our list for its uncrowded shorelines, challenging river currents, and the fact that it's a relatively unknown National Park (officially designated one in January of 2021) that often goes overlooked. West Virginia is a surprisingly beautiful state that offers a ton for nature lovers.
Additional Information on New River Gorge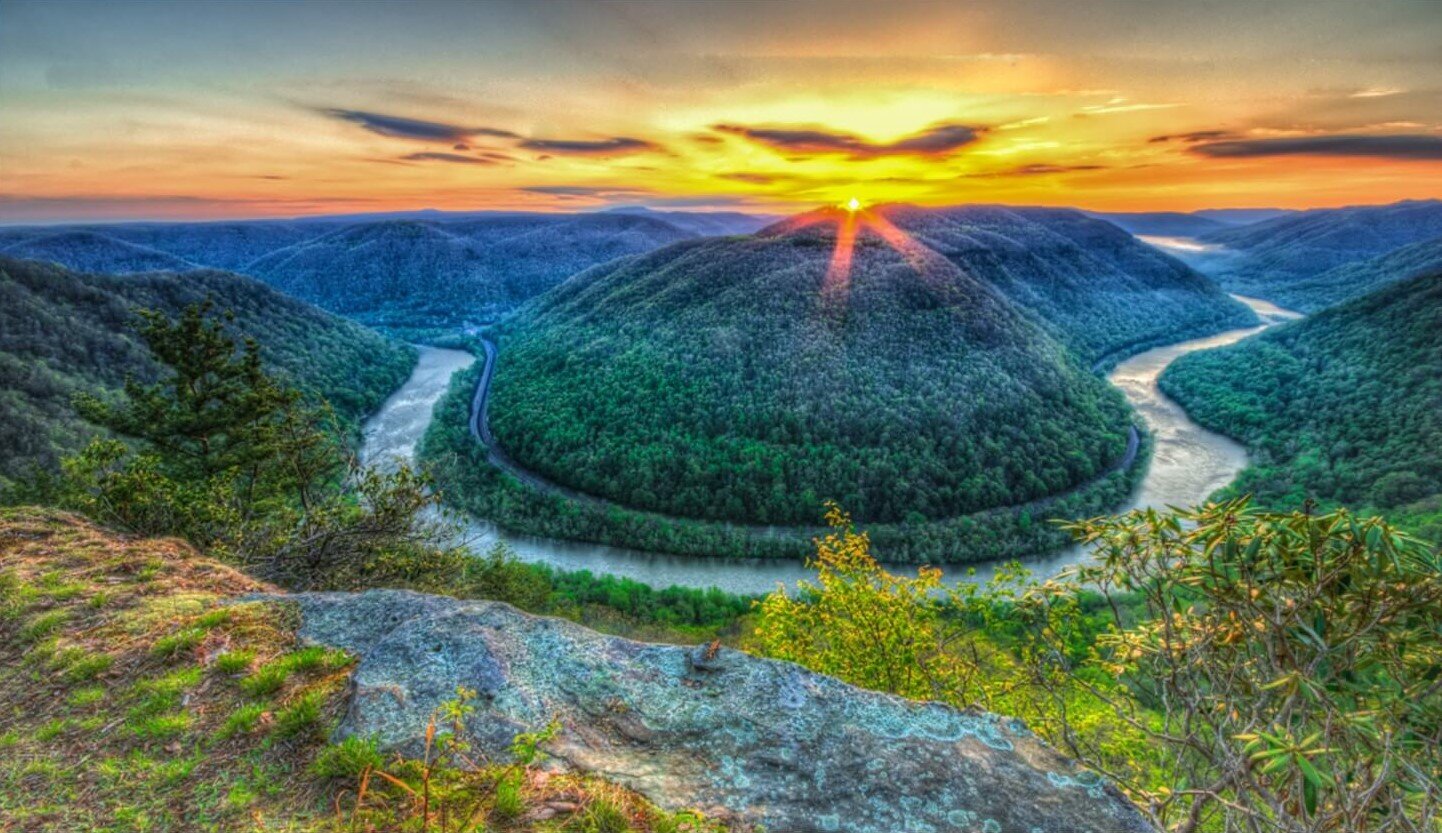 Expansive views. Mountain peaks. A rushing river. Pristine lakes. These are the obvious reasons why Grand Teton appears at number four on our list.
Beyond that, you have a chance to explore Jackson or Jenny Lake where you might come across the park's abundant wildlife. Set your sites on the shore and you might spot moose, elk, mule deer, lynx, bald eagles, peregrine falcons, and trumpeter swans. All with the Teton Range looming 7,000 feet overhead.
The experience of paddling in the Grand Teton on your Atoll iSUP is not to be missed.
Additional Infomation on Grand Teton National Park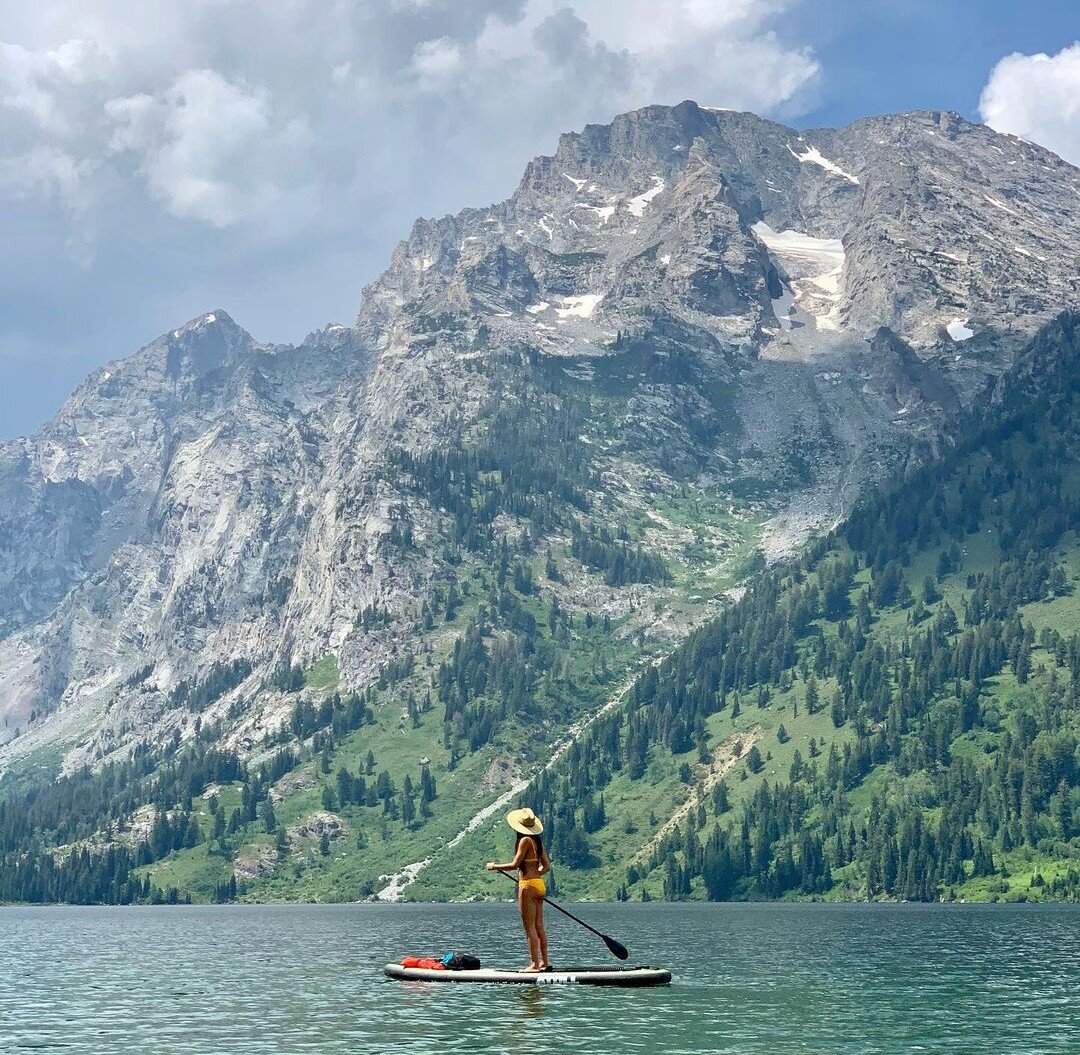 Channel Islands National Park is a chain of five islands located off California's central coast. Often called the "Galapagos of North America," these islands are home to an abundance of wildlife and massive sea caves ripe for exploration.
Paddlers are able to rent kayaks onshore and arrange to have them taken to the islands for paddling, or they can rent one from Channel Island Adventure Company.
Lucky for us, we have an Atoll inflatable paddle board at our disposal. Instead of renting, or arranging a pickup, all we have to do is hop a ride on the ferry to the islands, inflate on location, and explore! Take your time as you make your way through the island chains, and take every opportunity to scout the prevalent sea caves that make this paddle exciting.
Additional Information on Channel Islands National Park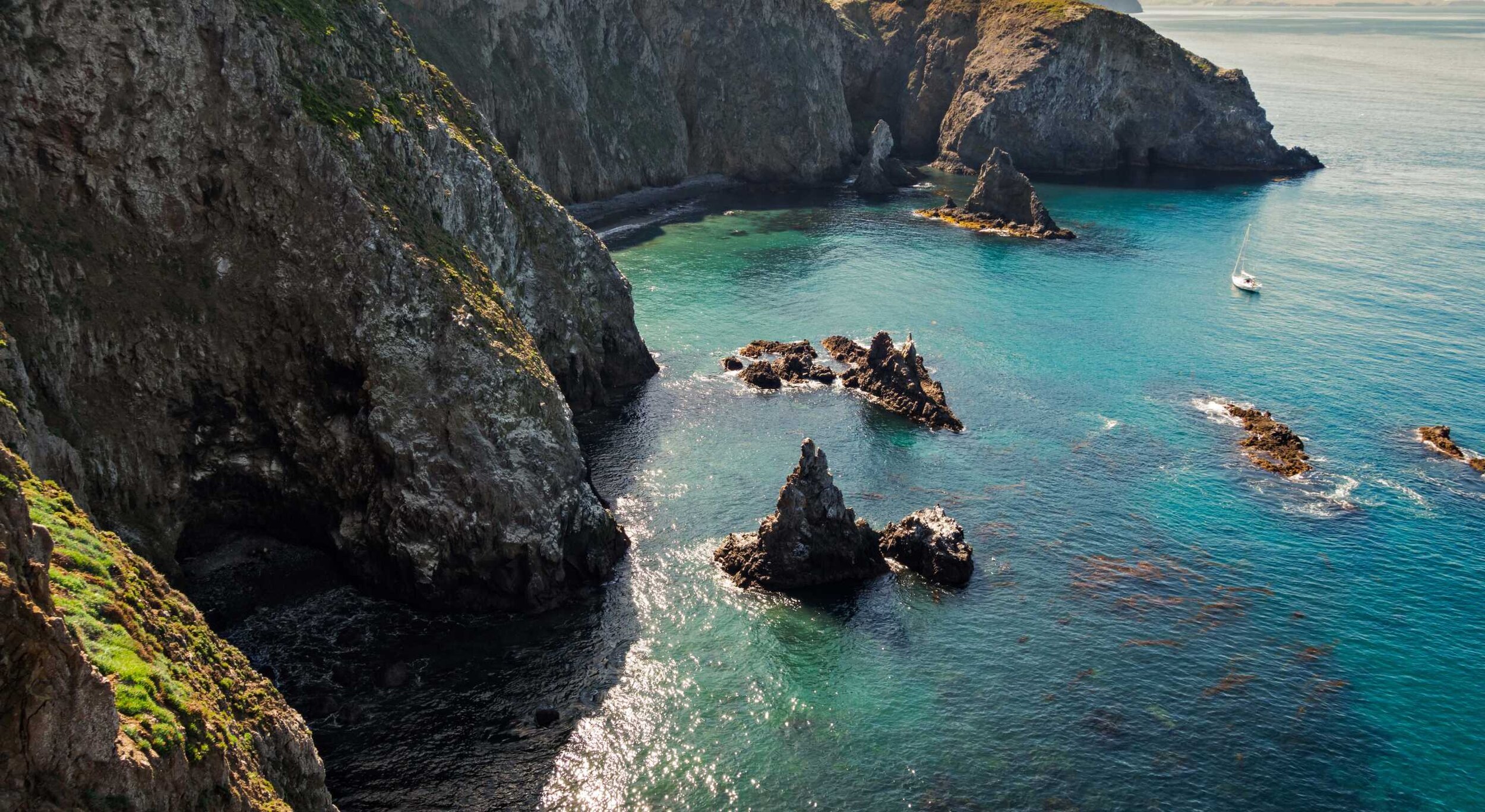 We can't have a list of National Parks without having the first designated park in the history of the United States included in it! As soon as you visit Yellowstone you're immediately hit with the reason why it was the first one to be designated.
The sweeping views, blooming geysers, abundant wildlife, and clean air make for a special treat for any visitor. And for the SUP enthusiast – there are plenty of lakes to explore during your stay!
In fact, you can choose whatever lake you'd like to paddle as long as it isn't Sylvan Lake, Eleanor Lake, Twin Lakes, and Beach Springs Lagoon – these locations are off-limits for visitors.
But for our purposes, instead of listing every lake you can paddle, we will recommend just one – Yellowstone Lake. This crystal, calm body of water is the continent's largest high-elevation lake. To paddle you have two options – take a guided tour (kayaks only at this moment) or grab your Atoll and follow the shore to see steamy geysers gurgle, mud pots bubble, and hot springs burn under the sun.
The best part?
Stay overnight! Yellowstone Lake as well as a number of other locations within the park offer visitors the chance to spend the night under the stars. With a chance to wake up to the beauty of Yellowstone, this is an opportunity not to be missed.
Additional Information on Yellowstone Lake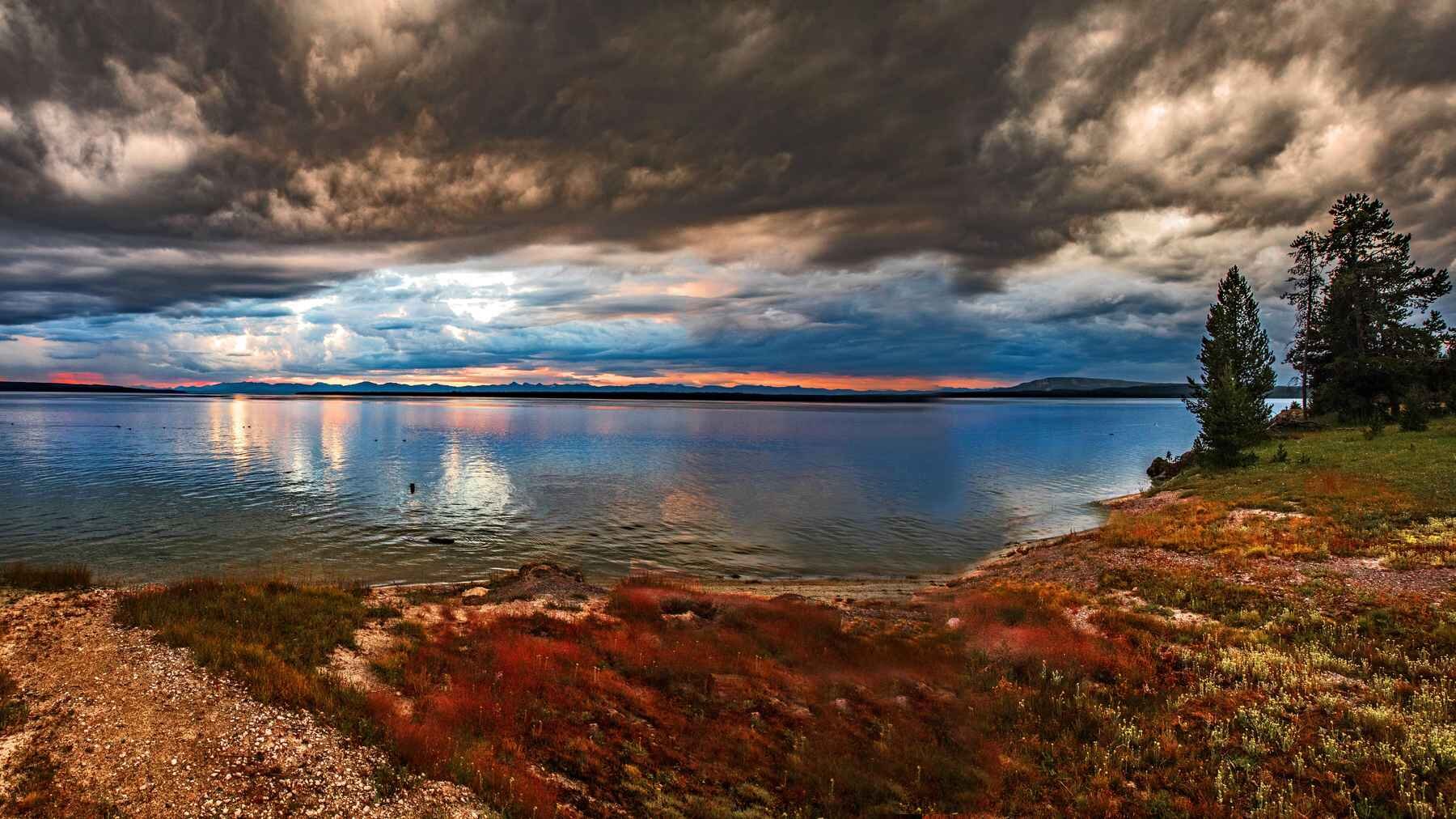 Located 70 miles west of Key West lies the remote island of Dry Tortugas National Park. It consists of a 100-square-mile park of mostly open water with seven small islands ripe for exploration. It is only accessible by boat so make sure you reserve a spot before heading out. Once there, explore Fort Jefferson, the picturesque blue waters surrounding the island coasts, coral reefs, marine life, and more!
This park makes it onto our number one spot for national parks to paddle board because of its tropical vibes and visitors have the chance to camp on-site, making it the perfect place to spend the night, watch the stars explode in the sky, and follow it up with an early morning sunrise and exploration of the beautiful clear waters surrounding historic Fort Jefferson. This is a national park trip you will never forget.
Additional Information on Dry Tortugas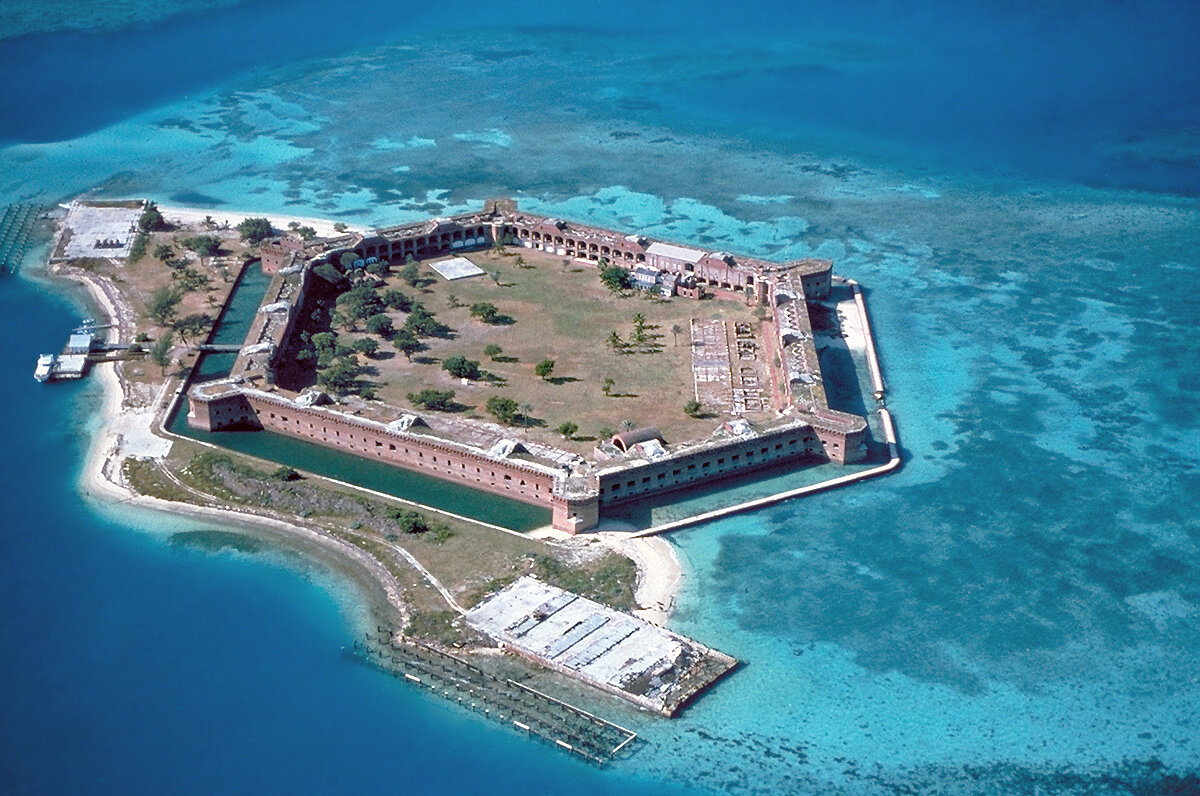 Conclusion
It can be very easy to slip into a routine. Into the familiar. And this is especially true even for SUP fanatics. We know places near our area that offer great spots to pack in, pump up, and paddle out. But sometimes, we need to be reminded of everything out there to see and explore. So while we encourage you to paddle as much as possible this season, we also want to remind you there are places in the United States that offer an amazing experience beyond the familiar. Start with these five national parks as you plan your summer adventures and of course, tag us in any pics that you will inevitably capture along the way.
Until next time Atoll Family – adventure on!