In this article, we uncover our favorite places to SUP and camp on the West Coast! Use this short list to plan your next adventure!
———————
Camping is fun. The fresh air, the hikes through the forest, the warm burst of a nighttime fire, the open landscapes, and the deeper connection you gain with nature and those you go with is, well, priceless.
What could be better?
…we have an idea.
What if on your next trip you decided to take a couple of Atoll boards along with you? Just pack in, pump up, and paddle out (where have we heard that before?) wherever you decide to make camp. As long as you are near water, of course.
With your Atoll iSUP along for the ride, you are able to explore areas you only could see from afar. Paddle lazily across a calm lake, shoot down a moving river or make your way past the breakers in the ocean for a thrilling afternoon.
How does that sound?
Pretty great, right?
Well, this spring and summer we highly suggest you give it a go!
But maybe you're left wondering where it is exactly you should go…
That's why we're here! To guide you through everything SUP. And that means pointing out some of the best places to camp and SUP during your next camping trip.
For this list, we have five places we recommend, though we always suggest doing your own research as well. These camping spots are a great place to start, with some that are more challenging than others. But no matter where you decide to go on this list, you're certain to be met with immense beauty, and the peace that comes with a close connection to nature.
Let's go!
5. Lake Tahoe, California
If you are a reader of our previous articles you may be familiar with this spot. And for good reason. Lake Tahoe, on the California or Nevada side, is one of the most beautiful places on the west side of the United States.
The crystal clear water is captivating to the eyes and keeps paddlers, adventurers, day-trippers, and everyone in between, coming back for more.
There are plenty of places to camp around the area but we recommend a spot called Eagle Point Campground.
This campground is located towards the south end of Lake Tahoe.
Why do we recommend this section?
Well, you know all those amazing photos everyone posts on social media of the huge panoramic view of the lake and the crystal clear water with the rounded, grey rocks jutting out to the surface?
That famous, and beautiful spot, is located right here in Emerald Bay where Eagle Point Campground is located.
Camp during the night and take your Atoll iSUP to the lake to capture your own amazing photos. Just be sure to tag us so we can feature you on our Instagram page!
Lake Tahoe is a "must-see" spot for any avid outdoorsman, but with a paddleboard along for the trip, you'll be able to create unforgettable memories.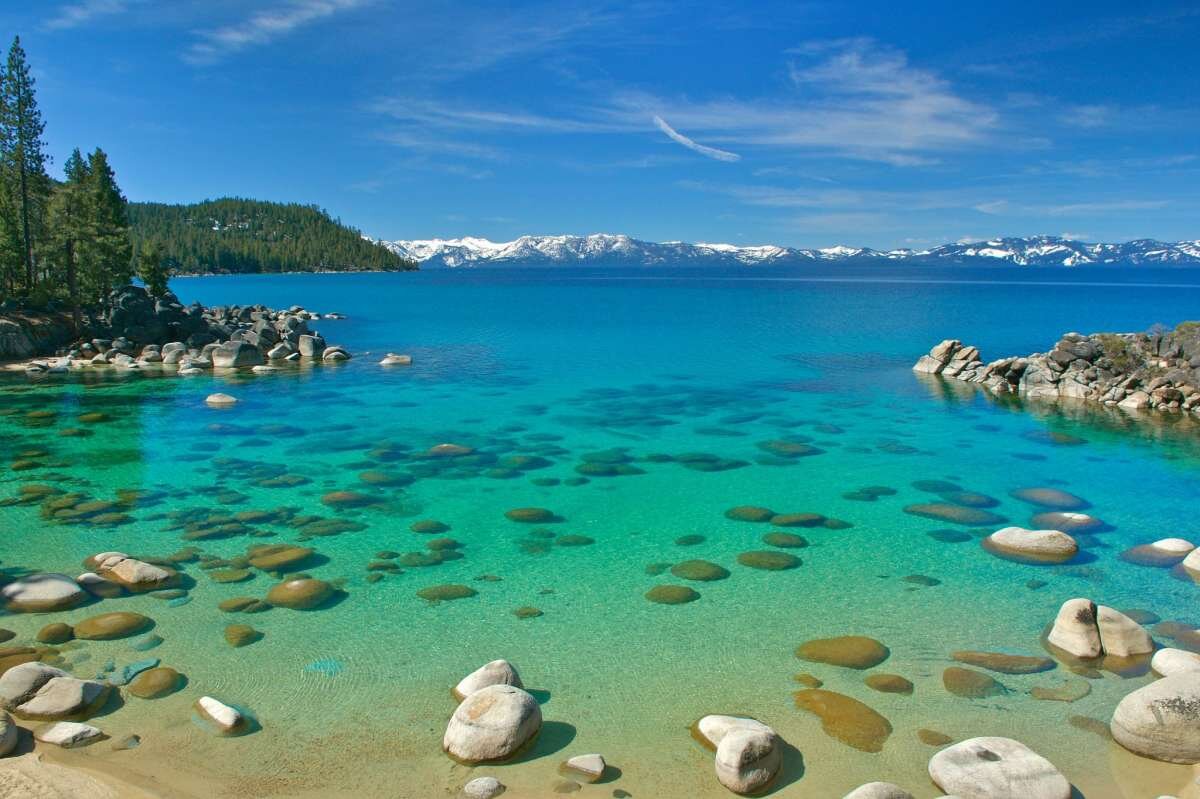 4. Elk Lake, Oregon
Our next stop is located to the north in Elk Lake, Oregon.
If you're unfamiliar with the area, Elk Lake is a sprawling, clear body of water located near Bend, Oregon. The lake features plenty of small inlets and coves for you to explore making for a fun afternoon on the water. Be sure to catch the sunrise or the sunset as the lake and its surrounding mountains offer some amazing views to begin or end your day!
And with plenty of camping amenities, it's the perfect place for a weekend getaway with friends and family.
Where is the best place to camp?
We recommend the Elk Lake Campground. It's in the perfect location right on the lake and comes with full amenities for campers, whether you are in a tent, RV, or van.
Or another option is to post up along the lakeside but that is first come, first serve.
A little bonus – during the summer months, the staff at Elk Lake offers its visitors free live music every Saturday night. A fun feature of the Elk Lake experience!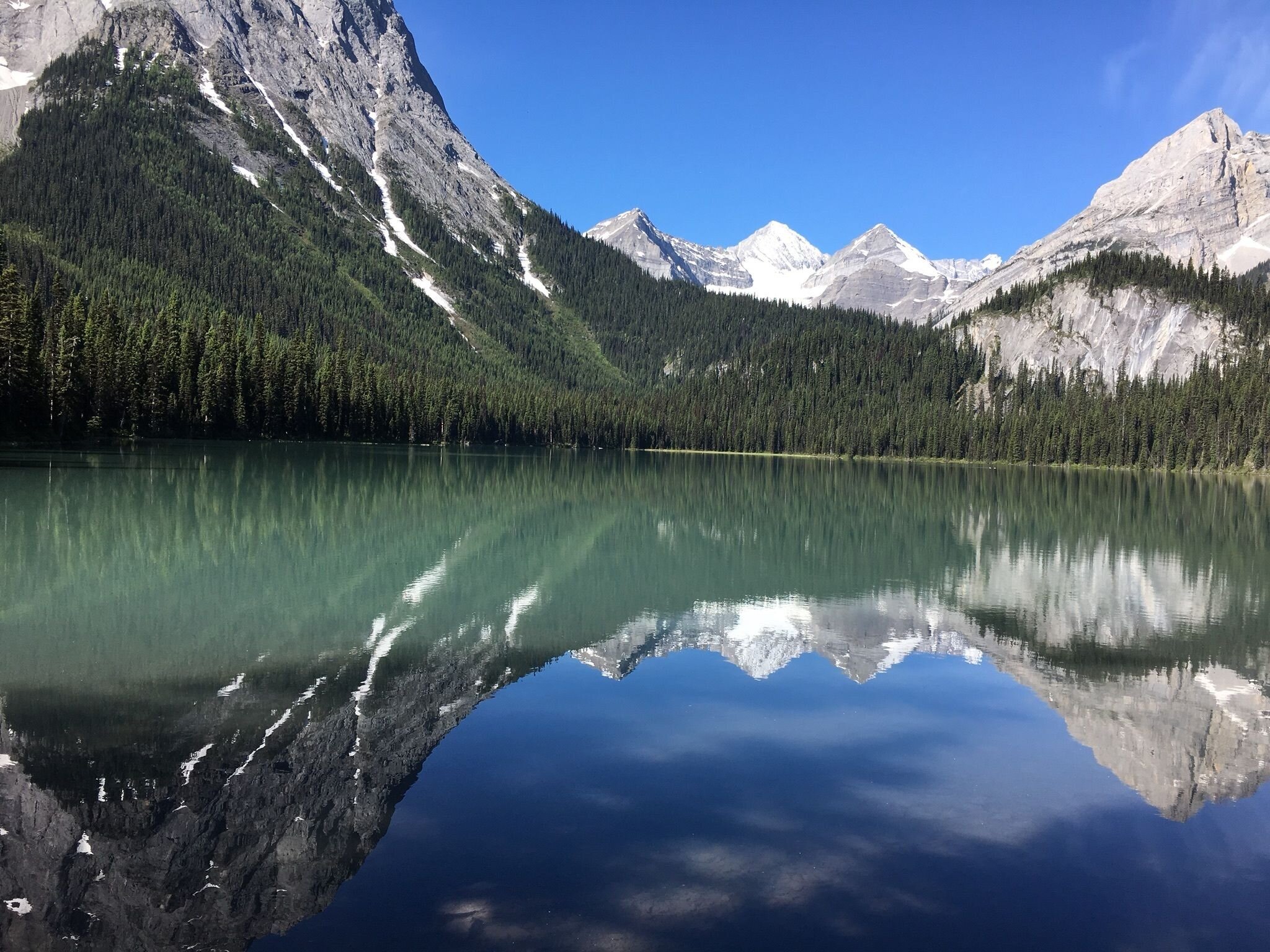 3. Big Bear Lake, California
Back down to California we go for our next spot! We are sure most of our readers have heard of Big Bear. After all, it is famous for another outdoor activity – skiing.
And for good reason. The mountains in Big Bear are perfect for the beginner to expert skier and snowboarder to shred some powder during the winter months.
But during the summer, when the crowds are a little barer, Big Bear Lake is a fantastic spot to camp, SUP, and explore the mountains.
There are a few great places to camp. One option is to rent a cabin on the lake. These places have full amenities, provide a safe place to sleep for the night, and are ultra convenient if you want to wake up and head onto the lake to start your day.
Of course, if you are looking for a more cost-effective option, there are a few campgrounds in Big Bear where you can post up a tent and sleep under the stars.
One such place is the San Bernardino National Forest Serrano Campground. But as always, we suggest you do your own research before booking to find a spot that covers all your needs.
Wherever you do stay though, make sure it's on the lake. You don't want to miss a sunrise or a sunset during your stay, especially if it involves seeing it from atop your Atoll iSUP!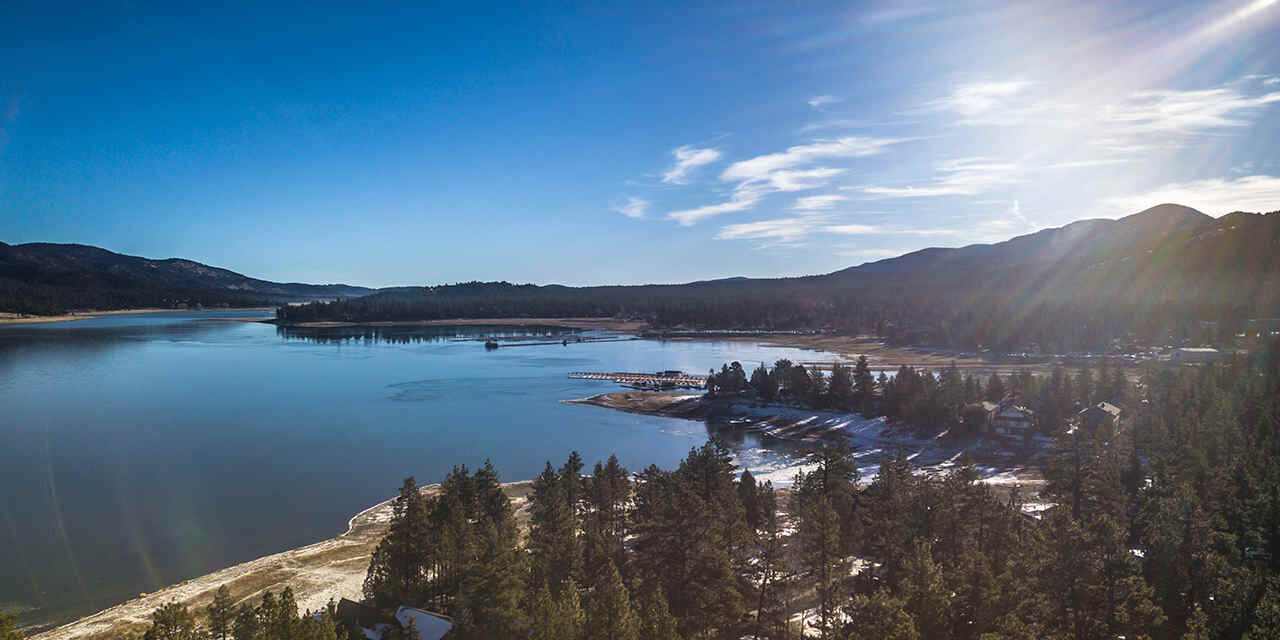 2. Baker Lake, Washington
Our next stop is located in the northern region of Washington State. It makes our list due to the increased solitude you will experience when you camp here, and the views!
Just take a look: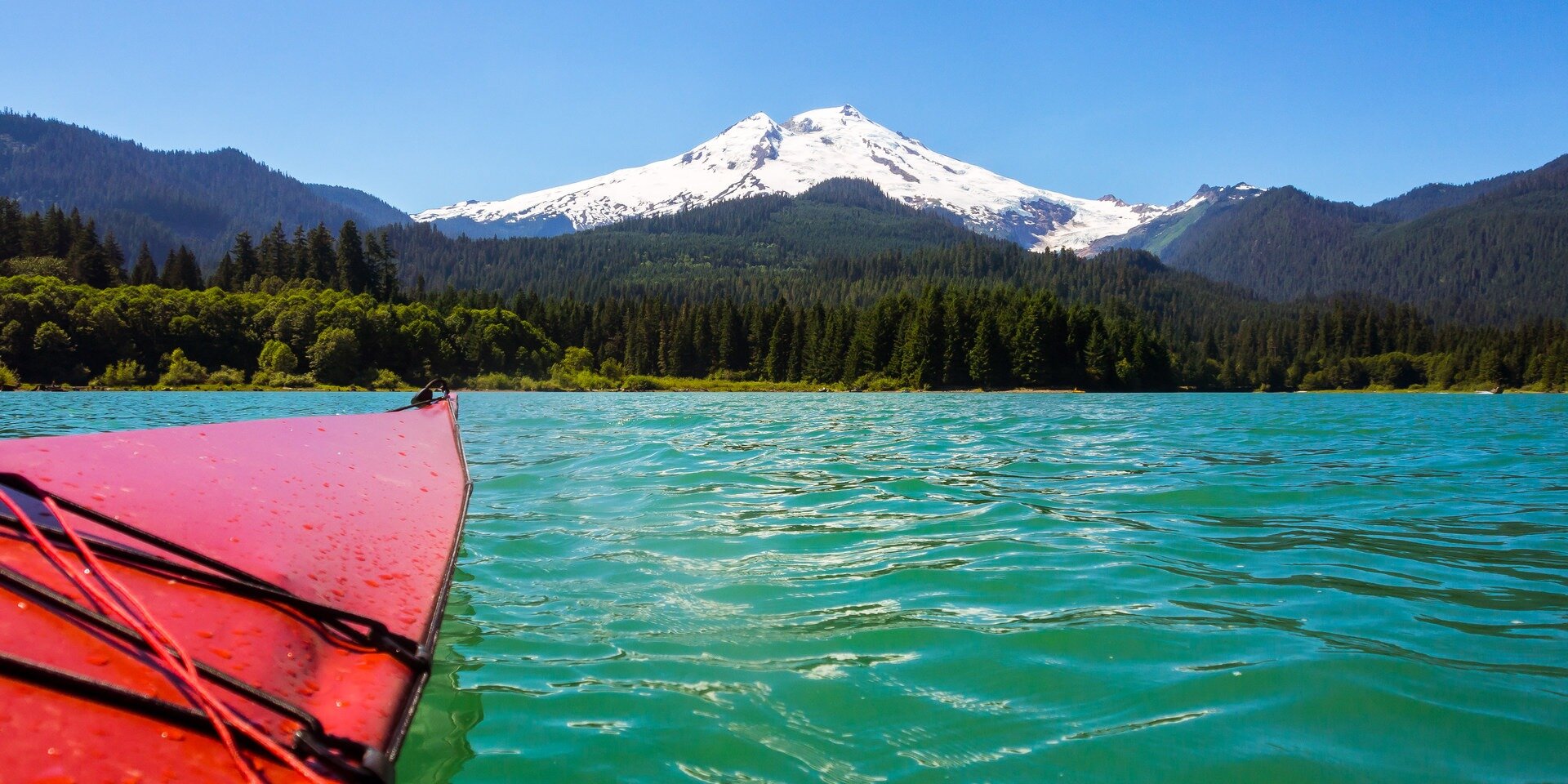 Imagine yourself waking up at sunrise, peaking your head outside of your tent and just taking in the mountain views with clear skies and all day to paddle, hike, relax, and enjoy the quiet of nature – way from work, obligations, and other anxiety inducing necessities.
Like our other spots, there are a few great places to camp. We recommend researching each one before you head up there. But a great place to start, Panorama Point Campground is one that we suggest.
Why?
The name says it all! Camping here you will be afforded the best views of the lake and mountains during your stay.
Remember, camping at Baker Lake is a solitary endeavor. There isn't much around the area beside the campground and a few stores down the road. Expect time to think, relax, and enjoy the outdoors. If that's your thing – give it a go!
1. Great Bear Rainforest, British Columbia
Our last spot on the West Coast happens to be the only place not located in the United States.
Way up north into British Columbia.
Why did we decide to include this spot? Well, it happens to be a vast area of pristine wilderness about the size of Ireland. It's the most remote area on our list. And the wildest. The exact ingredients for a fantastic adventure.
A few stipulations to keep you safe during your trip.
First, roads will only get you so far into the area surrounding the forest. What does this mean? Well, to start, you're going to have to find a different way into the forest other than by car. The most popular way is by boat.
There are a few options. You can depart from Northern Vancouver Island or you can experience the area by ferry through BC Ferries' Inside Passage route and the Discovery Coast Connector. Or if you wish for a quiet environment, take a small-ship cruise that offers a chef service, such as Outer Shore Expeditions or Maple Leaf Adventures.
Once there, you can camp at a few locations. The best places to check out are Farewell Harbour Lodge, Nimmo Bay Resort, or Knight Inlet Lodge. With these areas as your home base for the trip, you can hire a guide to take you on your SUP.
Norm Hann Expeditions
Lastly, if you want an expert guide to take you through the remote areas of the forest and camp along the route, then we cannot recommend Norm Hann Expeditions enough.
Norm Hann is an expert adventurer and paddler who has taken countless groups through the wilds of the Great Bear Rainforest where he shows them the abundance of wildlife, keeps everyone safe, and knows the best places to spot the fabled Spirit Bear.
In case you're wondering, the Spirit Bear is a rare genetic expression for the black bears in the region where they have naturally occurring white hair. The gene expression is only seen in about 10% of the bears in the area.
Snap a pic of the fabled bear while on your ultimate paddling adventure and have a story to share for the rest of your life!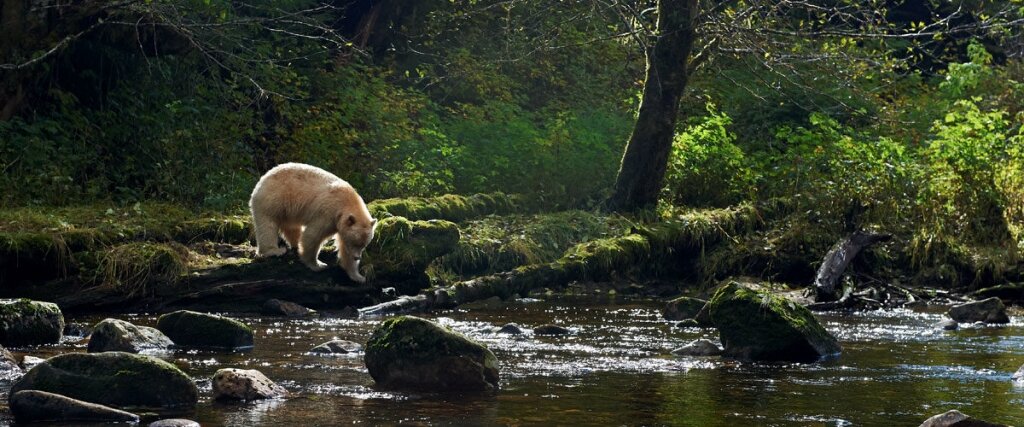 Conclusion
Spring is almost upon us. And that means it's time to start planning your next SUP-centric adventure! If you found any of these spots on the West Coast interesting or have any questions, let us know! Our inbox is always open. In the meantime, adventure on with Atoll!