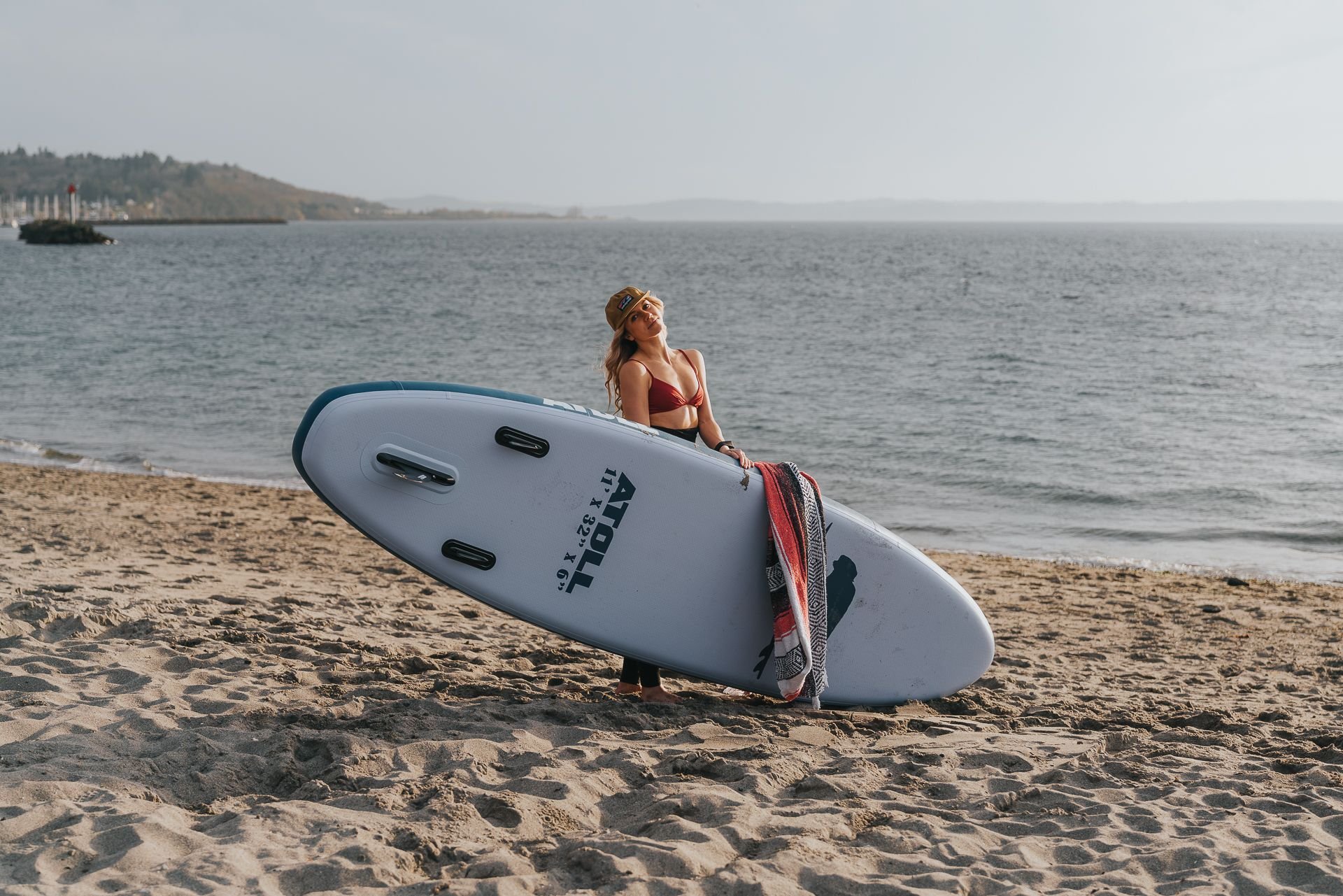 In this article we answer the 5 most frequently asked SUP questions and provide you with the best answers to get started in SUP!
_____
In the SUP industry, there seem to be a few questions that always rise above the rest. They are often repeated by those curious about the sport and even those who have owned a board for a few years.
They are important questions for beginner SUP enthusiasts because they are mostly responsible for starting the journey into SUP on the right path.
In order to help out, we've decided to answer the top 5 most-asked questions we receive in order to create the perfect starting point.
What follows are the answers to these questions. If, however, more questions should arise, please send them directly to our inbox and we will answer them ASAP.
Most Frequently Asked SUP Question #1:
What is the best board to start on?
This is, of course, the first question almost everyone has. Why? Because SUP boards are relatively expensive compared to other sports.
Instead of a $35 dollar baseball glove or $25 basketball, SUP boards range anywhere from $350-$2,000+.
With this type of investment, you want to make sure you're getting the right board at the start.
But this question is not always easy to answer.
It depends on how you will be using the board. There are many activities you can enjoy on a SUP…
Surfing
Racing
Yoga
Cruising/Touring
River paddling
SUP fishing
Paddling with your dog
For example, we would say that the ultimate beginner board that also works for SUP yoga, cruising/touring, river paddling, SUP fishing, and paddling with your dog would be an inflatable board such as our 11' Atoll iSUP.
However, this board is not the best in the surfing or racing scene. For these two activities, you will want to look at boards designed specifically for that type of high-performance action.
Typically, these boards are hardboards (foam cores, fiberglass, or carbon fiber material glassed on). These types of boards are stiffer in the water and will provide you with the performance you need to carve up a wave or cut through the wind on a long race.
So, in order to give you an answer on what board is the best to start on, you first have to decide what you will be doing on your board.
Are you looking for a cruising board that is durable, and can be used for SUP yoga, touring, river paddling, fishing, or paddling with your dog? Then stick with an inflatable board.
But if you want a board for specific activities (that might not be as durable as an inflatable board) you will want to purchase a hardboard designed specifically for that activity.
Most Frequently Asked SUP Question #2:
What's the difference between an inflatable board and a hardboard?
We covered this briefly with the previous question but this is a popular one so we will dive deeper into it.
Over the last 10 years, SUP has exploded onto the water sports scene. However, over the last five, inflatable paddle boards have come to almost dominate the industry.
There are multiple reasons for this and they lie in the differences between the two.
First Difference
First, iSUP boards are more durable. Yes, it's true! Inflatable boards have progressed over the years to the point where when they are inflated they are almost as rigid as a hardboard. But what they can do that hardboards can't do is hit rocks, trees, and other hard surfaces without cracking the rails like with a hardboard.
Instead, inflatable boards will bounce off obstacles with no issues. Well, we should say, that high-quality inflatable boards can. The cheaper-end versions often wear out faster.
Second Difference
Second, iSUP boards can be easily transported and stored. Instead of having to create a safe garage space away from any potential hazards or falling objects for an 11' hardboard, you can roll your iSUP up and place it into its carrying bag in between sessions or for the end of the season.
This convenience has given people who live in apartments and townhouses the ability to own a paddle board without having to sacrifice space.
In addition, iSUP boards can be checked onto airlines and transported to your favorite vacation spots where you can enjoy paddling at your leisure without having to rent a board for the week.
On the water, hardboards can be more responsive, and as we alluded to, are best used in either SUP surfing or SUP racing. Though, with new innovations, inflatable boards might overtake them there one day as well!
Last, hardboards can be more expensive overall due to the materials and manufacturing process. Typically inflatable boards can run from $399-$900. While hardboards are usually $949-$1300 for a beginner board.
To get a complete understanding of the difference between inflatable boards and hardboards refer to our previous article.
Most Frequently Asked SUP Question #3:
Can I buy a used board?
Yes, used boards are an option when you're first starting out. However, there are a few things to consider.
First, who is the seller? Are they some random person on Craigslist or Facebook Marketplace? If so, we recommend going to look at the board in person before you commit to a price.
Much like anything else, used boards will have wear and tear on them. This can come in the form of the aesthetic – small marks from the paddle, a torn-up pad, and chipped fins. To the problematic – patched holes, broken fin boxes, ripped bungee cords.
Always take a look at the board before you buy.
One crucial piece of advice – if you are set on purchasing a used board to see if you enjoy SUP before investing in a brand-new board, we highly recommend purchasing one from a local outfitter/rental place. This way you know the seller was taking care of their boards since they are an investment for their business.
Typically, outfitters will wash their boards after each use, keep them out of the sun, and properly store them for the winter season.
They will also be honest with you about any wear and tear on the board and offer a fair price. You will have a much better experience purchasing from a professional paddler.
Most Frequently Asked SUP Question #4:
Why are some boards more expensive than others? Does it really make a difference?
Yes, it 100% makes a big difference.
Some boards are more expensive than others due to the materials they are made with, the craftsmanship in which they are produced, and the customer service they provide.
This can include extra layers around the rails, a better foot pad that will last longer, and high-quality materials that make up the entirety of the board.
We've seen it a few times now – a person buys a cheap board from Costco or Amazon. They're stoked to get on the water. And then, after a full day under the hot sun, their board starts to get bubbles on the deck, or on the pad, and eventually, the whole thing is ruined.
It's costly enough to invest in one board. Make sure you don't end up purchasing two by buying a high-quality iSUP the first time around.
Most Frequently Asked SUP Question #5:
How do I take care of my SUP board so it will last?
Understandably, you want to keep your board in good condition for as long as possible.
There are a few ways you can make sure this happens:
Keep your board out of direct sunlight when you are done paddling – especially if it's inflated! The results of leaving your board in the hot sun will be bleached colors, and drying out of the surface which may cause damage to the stitching, bubbles in the foam deck pad, or an overinflation of the board when the hot sun heats the air inside causing strain on your stitching.
If you want to keep your board inflated, make sure it is in the shade.
Keep your fins up when taking a break and storing it on land. You don't want anyone jumping on your board with the fins facing down – this can result in cracking and possibly breaking the fin box – a costly repair!
Watch out for dragging your board on the blacktop when you carry it.
Cleaning Your Board
And make sure you clean it after each use. Every time you paddle, we always suggest you clean your board. This doesn't necessarily have to involve soap each time. A simple rinse down with fresh water can work. The cleaner you can keep your board the better. Saltwater and even freshwater can eat away at the surface of your board with bacteria and other organisms. To make sure this doesn't happen, a simple clean can avoid it.
Once it's clean, we recommend you don't roll it up and store it until the surface is completely dry. A wet surface that is trapped in your backpack or in the rolls of your board can lead to mold or mildew build-up, especially in the foam deck pad. These can both be cleaned away with a high-quality cleaning solution like those used on boating surfaces, but why not avoid the annoyance altogether? After each clean, make sure your board is dry and you'll be good to go.
For a complete rundown on how to clean your board and properly store it, check out our previous article.
Conclusion
Those are the top 5 most frequently asked SUP questions and answers. We hope this clears a few things up. Of course, if you have any additional questions, we'll be happy to answer them as soon as possible. Who knows, maybe we can turn them into another blog that can help your fellow paddlers out!
Until next time Atoll family, remember to adventure on!