In this article we breakdown simple travel tips with your iSUP to make your next adventure fun, safe, and easy!
——————
Adventure is synonymous with Atoll Boards.
That is the stated goal of our brand. It's the reason why we created the boards and spread the stoke of owning one to as many people as possible. And it's the reason why we wake up in the morning looking for new places to explore.
It's all in the adventure.
This is the creed of Atoll. To pack in, pump up, and paddle out, no matter the location on this big beautiful Earth we all share.
And we certainly wish to inspire everyone to get out there and explore. Unfortunately though, not everyone has been able to pack it up and jet-set across the continents and land somewhere foreign, eager to unpack and go.
But you also have to start somewhere in order to gain experience. You have to take that initial leap into the unknown and just…
Go.
Before you do though, it's always a good idea to listen to those who have gone before you. So that you may avoid any problems or pitfalls they may have experienced.
And while we are always stoked about encouraging others to get out there…
We are also here to provide you with the best information possible to make your trips successful and safe.
With that in mind, we'd like to discuss a few beginner tips that will help you take your Atoll iSUP anywhere on the planet in a way that will produce the least amount of friction and result in a memorable time for those involved.
Join us as we discuss a few tips to make traveling with your iSUP a success!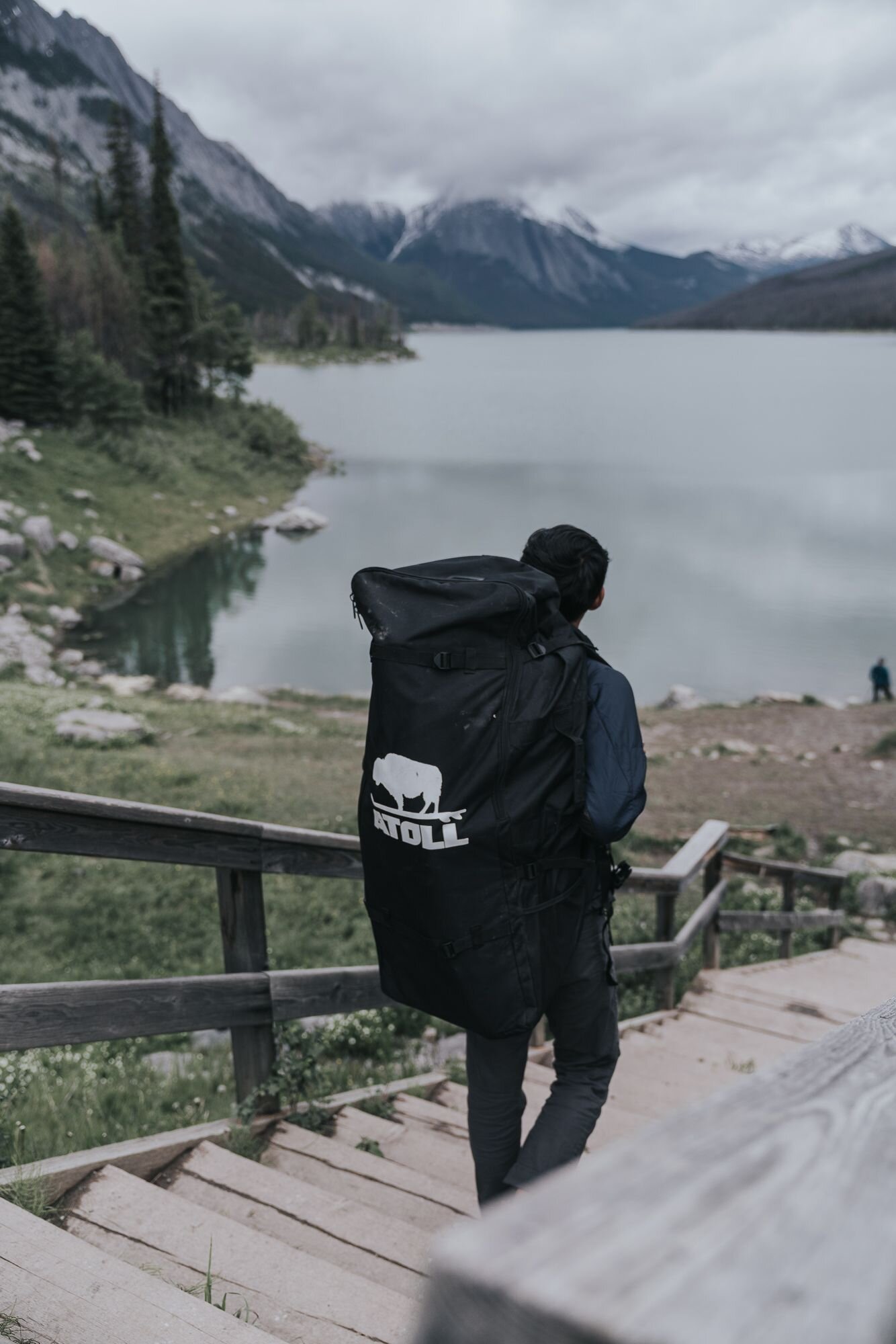 Packing Up
Our first travel tip with your iSUP has to do with your gear. You have to make sure you are bringing everything you need in order to paddle. Here is a short checklist:
iSUP – Make sure your Atoll board is folded correctly so as to not damage the side fins or the foam top. If you need a reminder, check out our video HERE.
Fin – Remove your plastic fin and pack it into the appropriate section of your Atoll carrying bag
Paddle – Take apart your multi-piece paddle and pack it alongside your board in the bag.
Pro Tip: Wrap your paddle with bubble wrap to avoid any cracking or bending that may happen with rough care during transport
Leash – Always carry and wear a strong leash when paddling
PFD – You may be able to rent one at your destination but if you have a waist-belt PFD it will fit into your bag
Sunscreen – Most vacation areas on our globe are along the equator. Being in these regions means being exposed to strong UV rays. Wear sunscreen and avoid bad burns.
Patch kit – In case you run into any sharp objects or if something were to happen during transport you are covered.
Hand pump – Unfortunately you may not be able to fit your electric pump in your carrying case. No worries, your hand pump included with your Atoll iSUP fits perfectly in the carrying backpack. You're just going to have to use those arm muscles to pump it up!
Once these items are loaded do a dry run – make sure you can easily carry the weight and no pointy pieces of equipment are protruding from the bag or harming any of your equipment – with special interest on your fin, paddle, and pump.
Keep trying it out until you are confident in your packing ability. Once set, you can move onto tip #2!
Airline Baggage Limits
Here comes the most important step in the process – airline baggage limits.
As a general rule, most airlines have a 50-pound weight limit per checked bag with variations among the major carriers. In addition, it is also a good idea to check the applicable height and length dimensions that the airline uses.
To avoid any problems once you arrive, bust out the old tape measure after you've packed your bag at home and found out your airline's limits. If you exceed their limits, you may need to re-roll your iSUP to avoid any oversized bag fees or denials.
Of course, the limits will depend on the airline you plan on flying with. The best tactic to take is to personally call the airline and ask about their baggage size and weight limits.
Research Your Destination
As we've already stated, we're all about adventure. But that doesn't mean we don't take any precautions or conduct research before heading out into the wild world.
Wherever you plan on heading – have a plan before you head there.
That doesn't mean sticking to a strict schedule and only experiencing what is on the itinerary. Rather, find out a general idea of launch spots for your SUP, what precautions you should take in terms of the weather, wind, and forecasts, as well as what sea creatures you may encounter while you are there. And of course, what type of boat traffic you may face when in the open water.
These are all important factors for your safety and should always be researched before heading out.
Other than that, stick to your usual practices of cleaning your board, not leaving it inflated under the sun for too long, and packing it dry after each use. Do these things and you'll be good to go!
Conclusion
Traveling with your iSUP can be daunting. Traveling with your iSUP on an airplane can be downright stressful. But we're here to help! Armed with these few tips you'll be able to alleviate some of the stress involved with airline travel and successfully have a fun time on the water wherever you may end up! And like always, if you have any questions, comments, or want any additional advice, feel free to let us know, our inbox is always open!