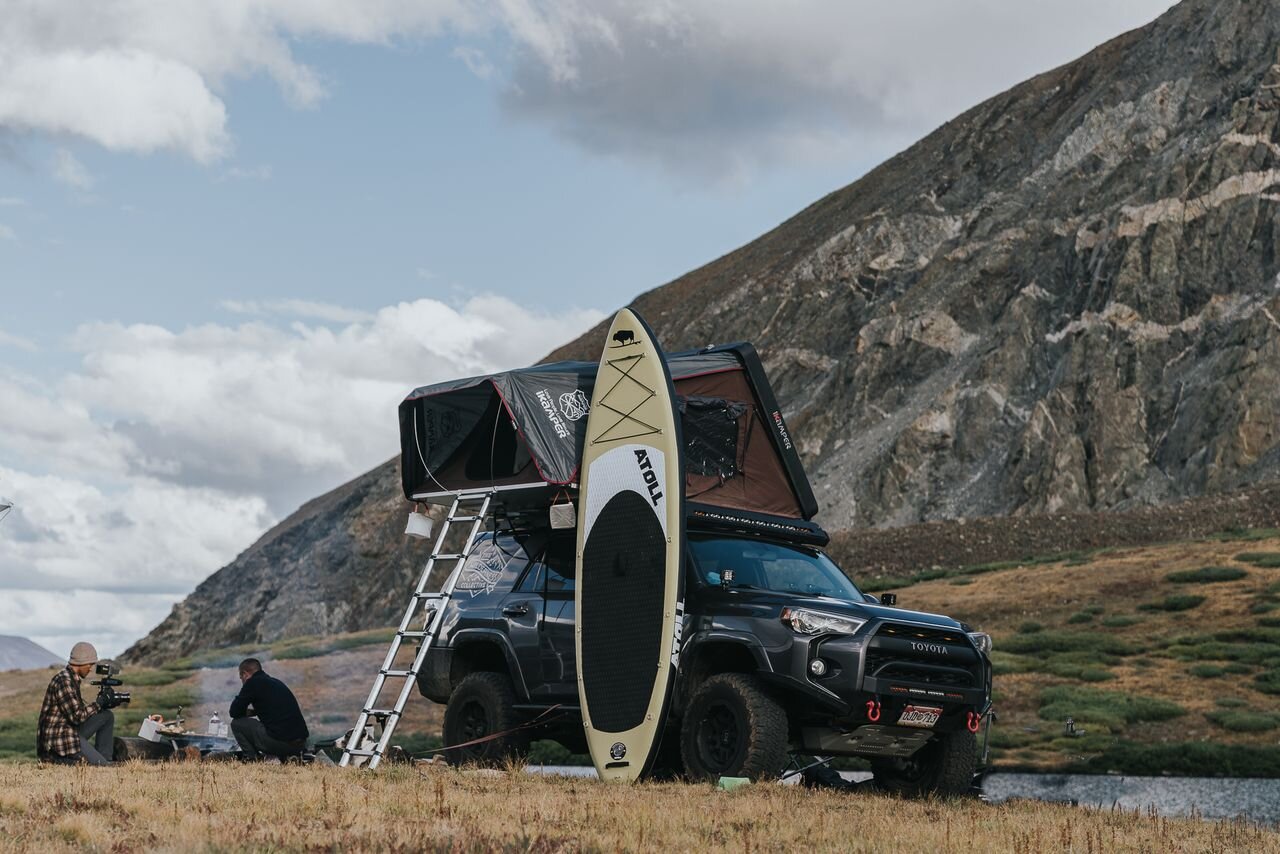 In this article, we discuss common SUP mistakes to avoid on your first overnight camping and paddling adventure. Use these tips to have a safe time on and off your SUP!
————————
Like other outdoor activities, paddling becomes easier after diligent practice.
The more time you spend on the water, the more comfortable you will become. The more your confidence will begin to shine through. And after some time, you'll be ready to face any challenge head-on.
If you're still a beginner, check out our comprehensive guide — How to Stand Up Paddle Board | Beginner's Guide to SUP. This way you can form a basis of understanding about SUP before heading into the wild.
With this understanding you might be ready to go on a SUP adventure. By adventure we mean spending time under the sun. Camping around a fire at night. And journeying to parts unknown.
But before you go, we have a few common mistakes you might want to avoid to sure your trip is successful.
Experience is often the best teacher, but you don't always want to learn lessons the hard way. And by understanding what not to do, you can avoid any annoying or dangerous situations. Let's get into it!
Side note – Be sure to check out a few of our previous posts full of helpful tips:
Top 7 Apps You Need for Your Summer Camping SUP Trip
Atoll Adventure SUP Gear Checklist
Atoll Travel Tips With Your iSUP
1. Not Enough Planning
If you're like us, you want to get in on the action as soon as possible. This over-enthusiasm can sometimes lead to dangerous situations where not everything is taken into account.
When planning your first SUP adventure it is much better to over-plan instead of under-plan.
Of course, it's always a great idea to have a positive mindset but you also want to remain realistic – plan for every possibility, both positive and negative.
This includes the type of gear you're bringing as well as the area in which you are camping. Plan your paddling route to the point where you are comfortable knowing exactly where you are at all times. Know where the ranger stations are located if you are heading into a state or national park. Know where you might be able to reach someone for help, how much food you plan on consuming each day, how much water you'll need, basically, plan, plan, plan.
If you are prepared for the worst and expect the best, it usually turns out to be the best that comes to fruition. That's why this is number one on our list of common SUP mistakes to avoid.
2. Don't Overpack or Under-pack
One scenario is obviously more harmful than the other. However, overpacking can lead to weight issues on your board which will result in difficult paddling, especially on any water body with a current. It can also be difficult to portage overland if that is necessary for your trip, and if your gear isn't loaded correctly, it can cause balance issues on the water which may cause you to fall in. All scenarios we wish to avoid.
On the other hand, the dangers of under-packing are self-explanatory. If you don't have the necessary gear to survive in the wild, you will be faced with unnecessary dangers in the form of not having enough food, water, or proper shelter at night.
Avoid these mistakes by making sure you are neither overpacked nor under-packed.
3. Give Your Gear a Test
On a SUP adventure in the wild, you will be bringing along plenty of new gear you normally wouldn't have on a regular paddle day.
Collecting new gear can be an exciting part of the journey. But before you go, always make sure you know how everything works, how it will fit on your board when paddling, and if it is 100% necessary for the success of your trip.
So, bust out the new stovetop, light it up, maybe even cook on it. See how the hammock feels for sleeping under the stars, understand how your compass works, your GPS, in short – test everything.
With all of your gear tested and ready to go you won't be faced with any unnecessary surprises. And that's a good thing.
4. Don't Forget the Weather
Number four on our list on common SUP mistakes to avoid is an important one. And it might go under the same section as planning but it bears repeating. You're going to be spending time in nature. And nature is cold, wet, unforgiving, and relentless. Especially when the weather takes a turn for the worse.
Always, always, always, know what the weather is going to do for the duration of your trip with a special interest on the wind. If the wind is blowing hard it can make paddling difficult and even dangerous.
If you know before you go, you can be mentally and physically prepared.
To get a great idea of what the weather is doing in your area, we highly recommend downloading a weather app on your phone so you will know in real-time while on your trip.
5. Pack It Up
One major common mistake newbies make on their first SUP adventure has to do with their provisions and nighttime.
Often, we can get so caught up in the beauty of being in nature, the look of the stars, the sounds of the night, that we might forget to pack our food after dinner. This can sometimes attract a crowd. And often, it's not a crowd you want to deal with.
Raccoons, bears, birds, and whatever else lives in the woods that you're camping in, are always on the lookout for a tasty bite to eat when nightfall hits. Always make sure your extra food is packed away, in a secure location, and if you have any leftovers or scraps, dispose of them a great distance away from your camp, or keep them packed overnight.
Parties are fun, but parties with the local wildlife are not.
6. Stay in Your Comfort Zone
When it comes to being in the wild, if you are not practiced, prepared, and experienced, simple situations that can easily be avoided in civilization can rapidly turn into life-threatening ones.
To avoid any of these situations, it's always best to stay in your comfort zone – at least in the beginning.
Stay on bodies of water that you are familiar with and can comfortably paddle on. Keep close to markers of civilization where you might be able to seek help from others, make sure you have cell service for the duration of your trip and a way to charge your phone, and that you have a vehicle close by if the situation for first-aid should arise.
By taking it slow in the beginning you can gain experience without putting yourself into dangerous situations. And as you grow, then you can begin to push yourself past your limits. Be sure to remember this number 6 mistake on our list of common SUP mistakes to avoid.
Conclusion
A trip into the wild can be an unforgettable experience. It can be exciting, fun, and full of stories that you can tell around the campfire for years to come. But if you're new to heading into the wild on your SUP, then be sure to consider these common mistakes newbies can make. By avoiding them, you'll be safe, unstressed, and will have a ton of fun. Questions or comments? Drop us a message! We're always glad to help you out in any way possible. And until next time Atoll family – continue to adventure on!