Unfortunately for some of us, the SUP season ends. And that means it's time to put our toys away. If you want to know how to best prepare for the end of the SUP season, including how to care for you board, and what to do next, then check out this short guide below!
———————
The winter months of December have descended upon us. With the change in the calendar comes shorter days with an added tinge of frost on your fingertips.
These days may not be very conducive to stand up paddle boarding. Unless…
You're like us at Atoll. For our group of crazy adventure seekers, SUP season never ends. It gets modified.
We change from board shorts and sunscreen to added layers and stocking hats. If you share in our taste of the wild and want to paddle year-round, then check out our previous article on what to wear to paddle in cold temperatures.
It's entitled, "How to Dress For Cold Water Paddling (Even if You Don't Have a Full Wetsuit)."
While we are adamant on encouraging you to paddle year-round, on the flip-side we also understand that not everyone enjoys it.
For some, SUP season does end. Or at least, it gets put on break until the world begins to warm once again.
It's best then to use this time to prepare for the upcoming season.
This is Atoll's, "How to Prepare for the End of SUP Season," guide on what to do when winter sets in.
Let's get into it!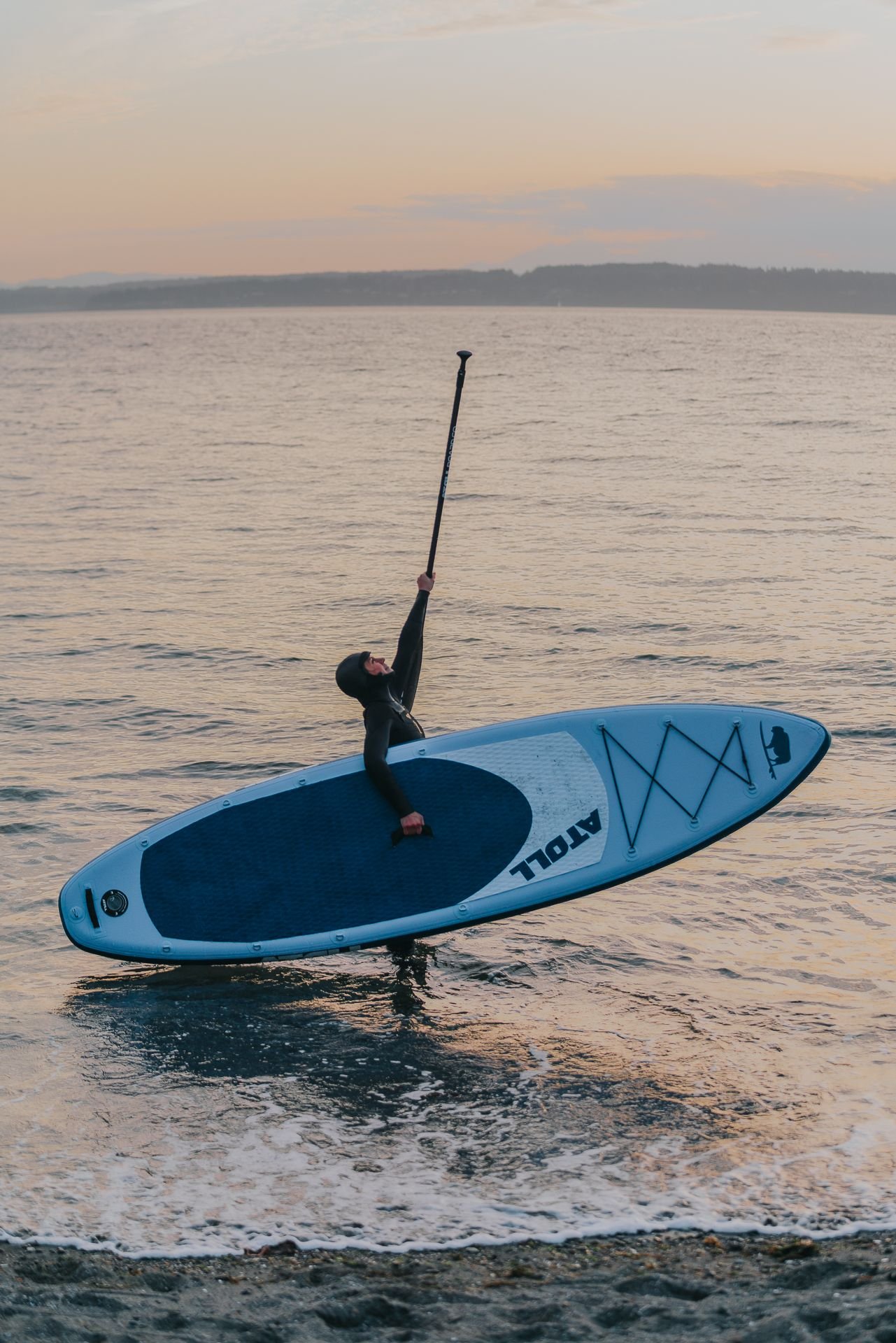 Clean and Repair
After a full season of use, your board will likely have some small signs of wear and tear. That's okay! In fact, it's a great thing to see. It means you've been using your board on the water and enjoying time under the sun exploring new areas around the world. And that is what owning an Atoll is all about.
The first thing to do then, is to look over your board to see if there are any repairs that needed.
Things to look for:
Is the foam pad peeling up? Does it need glue?
Are your bungee cord ends frayed? Do you need to re-burn them with a lighter?
Are there any scuffs on the rails that need cleaning?
These are all cosmetic repairs and simple to reverse.
If, however, you find that you need to repair a tiny hole in your board, then please refer to our previous guide, "How to Patch Your Inflatable Atoll iSUP."
This guide will walk you through the steps you need to patch any tiny holes that may have occurred.
After taking stock of your board, look at your paddle. Does the latch need loosening or tightening? If you paddled in salt water, does the latch need to cleaning to avoid it locking up? How does the blade look?
If your paddle is still in great working order, it's time to give both a thorough cleaning. That way, when you decide to roll it up and store it for the winter, you won't have any problems with mold on the foam deck pad. Also, and your board will be in better working order and ready to go once the seasons change.
To understand the proper way to clean your board check out our guide, "How to Properly Wash and Store Your iSUP for the Winter."
After you've completed these steps, store your board somewhere safe that is temperature controlled and you're ready to move on.
Learn More About SUP
While the best way to learn about SUP is by participating in the sport, you can also expand your knowledge through videos and books on the subject if you feel inclined to do so. This is a great way to stay connected to the activity when it's the end of SUP season.
And what better time to do it than during the cold winter months nestled under warm blankets next to a fire?
Winter is the perfect time to watch a few videos on SUP technique, highlights from some SUP races around the world, or read an entire book on the subject like Steve West's, "Stand Up Paddle: A Paddler's Guide."
Steve is a legend in the SUP sphere as he was a part of the community from its inception to where it is now. In his guide, he covers the historical origins, the proper techniques, and what lies ahead for the future of the sport.
His book is a must-have for anyone interested in SUP or for anyone who would like to learn more.
Of course, extra resources on the topic are on the largest online university in the world – YouTube. There you can find videos discussing the simple nuances of the paddle stroke as well as how to execute a pivot turn.
The winter months are the perfect time to expand your knowledge on the sport you love, so why not take advantage of all the information out there?
Remain in Shape
We've all been there. It's the middle of December and the Christmas cookies are floating around the office. Candy canes are hanging from your tree. And gingerbread houses tastes so good with the fresh frosting on the top.
But before you know it, you've gained 10 lbs and have seen all your progress from the summer fade away!
No bueno.
That's why it's ultra important to stay in shape during the colder months. Not only are you more vulnerable to gaining weight, but also sickness. With lower levels of Vitamin D and a decrease in sweating/detox, plus more time spent indoors, you are more likely to have a rundown immune system and can catch something from your friends or family.
Avoid all this mess and remain consistent in the gym!
Plus, once spring rolls back around, you'll be ready to go back onto the water without having to work your way up to increase your fitness.
The best way to stay in shape?
Follow our SUP-centric workout entitled, "The Perfect Workout to Get Ready for Spring SUP."
It combines yoga, HIIT, cardio, core and balance for the best combination to stay ready for SUP when the weather is cold.
Plan Your Summer Outings in Advance
While SUP is about spending time in nature with friends and family, the team at Atoll also believes its about adventure.
It's about exploring the unknown, heading to new areas, and immersing yourself in the natural surroundings.
But it's also never a good idea to do so without first planning where you're going and what you'll need to bring while you're there.
Take this time to pick out the spots for your summertime adventures. Understand what the terrain is like. What you'll need to bring if you plan on camping overnight. And where the ranger stations or closest help is if anything should go wrong.
To void these common mistakes and others made by beginners check out our article, "Common Mistakes to Avoid on Your First SUP Adventure."
Expand Your Circle
One of the best aspects of enjoying SUP is the built-in community that comes along with it. People from all over the world come together to enjoy time on the water and activities like SUP touring, surfing, racing, yoga, and more!
The offseason is a great time to expand your circle and make new friends. You can do this by joining a few choice Facebook groups or other social media sites to see who lives in your area and if they are also into paddle boarding.
One such group happens to be our, "Atoll Boards SUP Owners and Fans," group on Facebook. If you'd like to join, please do so! We discuss our favorite places to paddle, our favorite gear, and personal adventure stories from around the world. expand your circle by joining today!
Conclusion
You're either into paddling during the winter or you're not. There isn't an in-between. If you're into it, great! be sure to dress appropriately and take the proper safety precautions. If you're not, then we hope you found some value here on how to prepare for the end of the SUP season. Either way, we'll see you out on the water soon!
Questions or comments? Send a message to our inbox and we'll get back to you shortly! And until next time Atoll family, remember to adventure on!