In this article we discuss how to stay safe during your first solo SUP trip!
—————————
Paddle boarding with friends and family is a blast. The shared experience of getting on the water is an opportunity not to be missed. Unfortunately though, for us SUP addicts, friends and family are not always available at the same time we want to go.
This should not dissuade from enjoying the activity we love. At Atoll, we're all about adventure. And some of the best adventures we've experienced have been solo ones. But it does mean that we should always take the proper precautions to make sure we are safe.
Without the extra set of eyes to make sure you are okay and the extra set of hands that can help us out of a precarious situation, safety needs to be at the forefront. What exactly do we mean? What follows is a standard set of guidelines every paddler should adhere to if they are planning on taking to the water by themselves.
And if you are still new to the sport, check out our comprehensive guide – How to Paddle Board: Everything You Need to Know to Get on the Water. In it, you will learn how to inflate, how to measure your board, how to stand, how to paddle, basically everything you need to know!
After you've learned all there is to know about paddle boarding, continue here to know how to remain sage and with a smile on your face for the duration of your trip.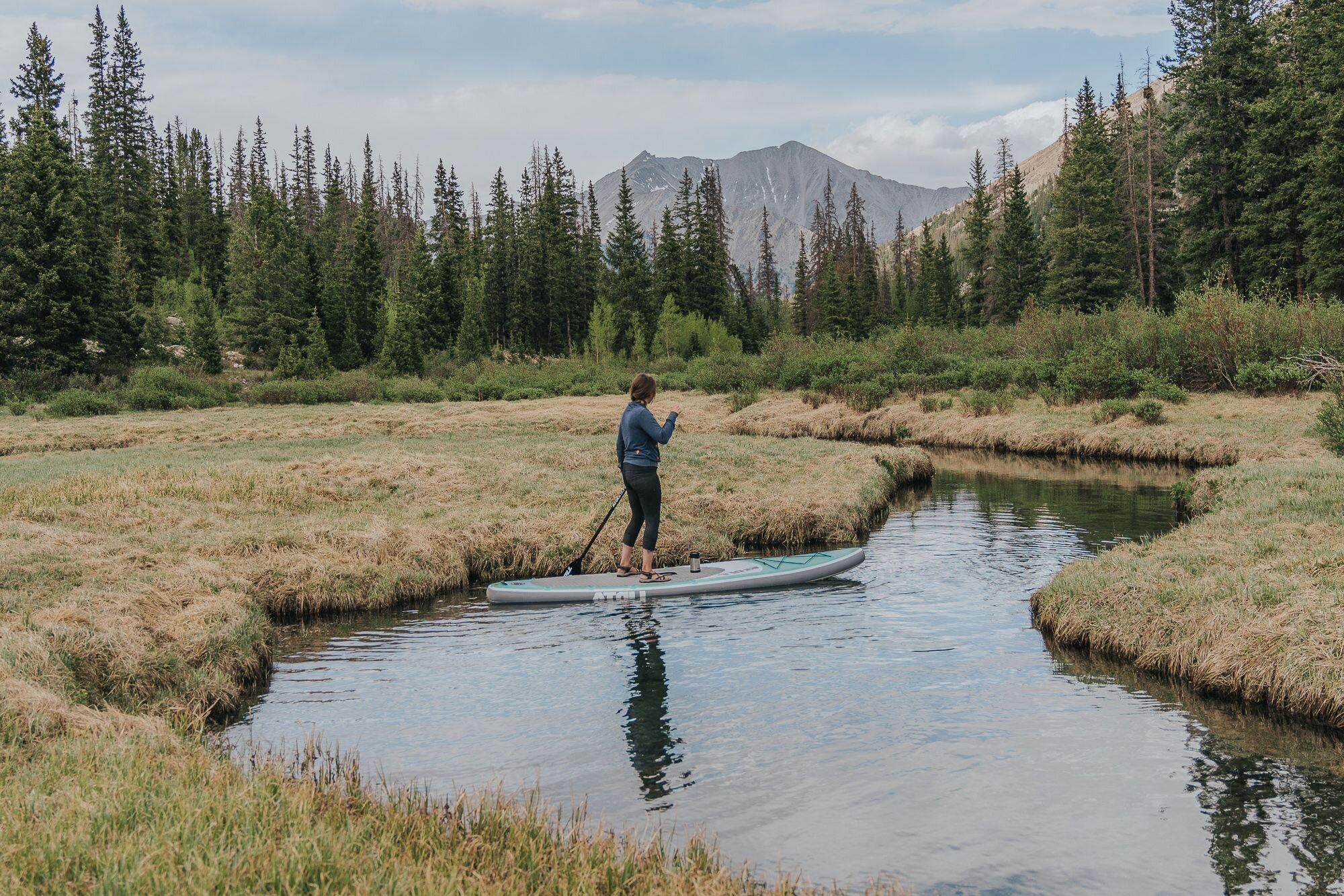 1. Notify Someone Close to You of Your Solo SUP Trip
Always, always, always – let someone you know and trust of your plans to go paddling. This might seem unnecessary but it can easily be the difference between a successful rescue if needed or a bad outcome.
If someone knows of your trip, when you plan on leaving, returning, and where you will be paddling, then if they were to not hear from you, they know to alert the authorities and will have the pertinent information to get the help you may need.
This includes multiple day outings or just a simple few hours on the lake, river, or bay.
2. Research the Paddling Destination
This is especially true if you are planning a trip to an unfamiliar location.
Start with the weather and more specifically the wind. While rain might cause problems in the form of thunderstorms (always exit the water during a thunderstorm due to lightning hazards) it's the wind that can make or break a SUP trip – as well as increase the dangers.
During a windy paddle, it's very easy to fall off your board. If you were to get separated from your board your chances of facing a dangerous situation dramatically increase. Make sure you know what the wind is doing before you head out.
It is also a great idea to study the shoreline, know where the best places to launch are, where you might exit, and if there will be other people at the launch location.
If there will be additional people, and especially additional paddlers, at the location you plan on paddling, you can at least expect to have the added safety of others on the water with you.
3. The Right Equipment
It goes without saying – always bring, wear, or place a PFD on board while you paddle. Having a flotation device is a required law in many states for a reason – it can save your life.
Next, make sure you are wearing a strong leash. Before you head onto the water inspect the condition of your leash, make sure it hasn't been dried out by the sun, and the Velcro is in strong working order.
Also, depending on the environment you plan on paddling, a good pair of booties or waterproof socks can come in handy in case you have to walk your board and the bottom is rocks, fallen debris, etc.
In addition to these necessities, extra water, food, a whistle for attracting attention in case you need assistance, a first aid kit to keep in your car, and a change of clothes is also a good idea to bring.
Last, we highly recommend a waterproof cell phone case like the Floating Geckobrands one we sell on our site. If all else fails, having a cell phone handy in case of an emergency is a fantastic safety net for your first solo SUP trip.
4. Learn the Right Skills
When paddlers begin their journey into SUP, they are very focused on just standing and paddling.
Makes sense.
But as you grow and learn as a paddler, it is always a great idea to expand your skills into the realm of safety and rescue. This is especially the case when it comes to your first solo SUP trip.
As an example, if you have not practiced falling or getting back on your board quickly, you should attempt this a few times before paddling solo. The ability to grab your board and pop back onto the deck is a valuable skill that can help you in any situation on the water. If you are not able to get back on it can tire you out very quickly, which will make swimming difficult and these two combine for a precarious situation.
Know how to get back on your board with ease before attempting a solo paddle session.
5. Confidence vs. Overconfidence
Confidence is a fantastic trait that can lead you to be successful on the water and in life. However, you must be honest with yourself and understand where your skills lie. If you approach a solo paddling session with overconfidence you may quickly find yourself in a dangerous situation.
For example, if you have never paddled in the ocean or a moving river before – do not make these environments your first solo SUP session. The currents in both are sometimes completely unmanageable for a beginner in SUP. Instead, go with friends or a family member first, practice balancing on a moving body of water, and get your sea legs underneath you.
In short – be honest with yourself and your skillset. Take note of how many times you've been paddling and if you are truly ready to head into the great unknown alone. With a little bit of honesty, you can avoid any dangerous situations on the water.
Conclusion
The search for solitude on the water can be very rewarding. Time spent alone in nature, on your SUP, is an opportunity every paddler should take advantage of. However, before you go, take these simple tips into account. Unlike other sports, SUP does not come with a course you can follow that is clearly marked as a beginner trail, intermediate, or advanced. Conditions can change at any time, accidents can happen unexpectedly, and if no one else is around, what started as a peaceful trip can turn into a scary encounter. Your next (or first) solo trip will be a safe one with these tips in mind. Of course, if you have any questions or would like any additional information on this topic, drop us a message! We're always happy to help whenever we can.