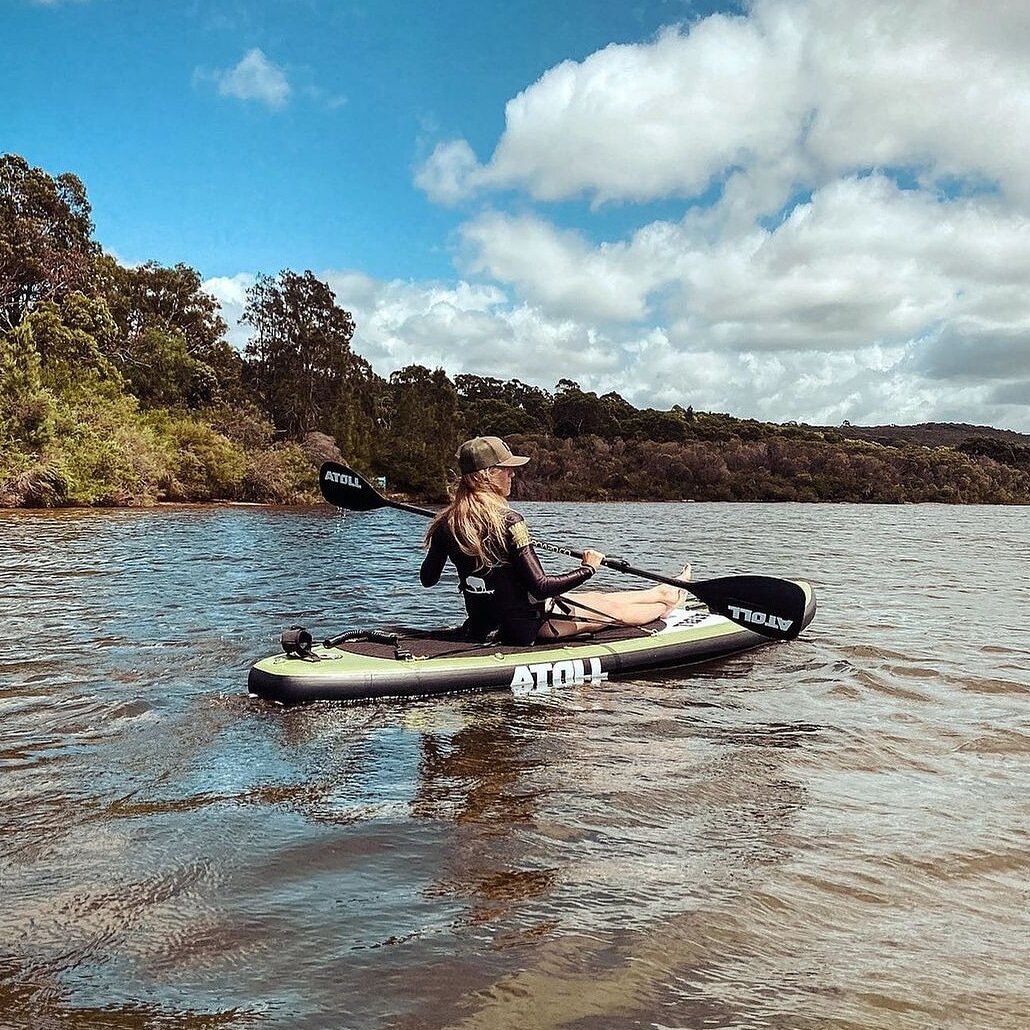 In this article, we unveil the best way to turn your SUP into a kayak! Including what accessories you need to be successful on the water.
——————
At Atoll, our mission is guided by a few core beliefs.
The first is rooted in adventure. We aspire to create the perfect vehicle to fuel your fun on the water no matter where life takes you.
Our second is freedom. With an iSUP you can pack up your board and take it wherever you go. Easily check it onto your plane for an overseas trip or throw it into your trunk as you hit the road searching for that perfect launch spot.
With these two ideas in mind, we wanted to make sure we were able to combine them both and bring you more flexibility as well.
To ensure that we are able to provide you with the best product with the most flexibility we added a few key accessories to our lineup to convert our fantastic SUP into a great kayak. This will give you the most flexibility to increase your freedom on the water and fuel your adventures wherever they may take you.
But how do you convert your SUP into a kayak to save you money on purchasing another expensive piece of equipment?
That's what we are covering today! Let's get to it.
The difference between a SUP and a kayak is quite obvious to most. On a SUP you stand while paddling and on a kayak, you sit.
If you're just starting out, you may have noticed that you can sit on a SUP with no problems and still paddle. But after a while, it can be uncomfortable and a bit clumsy.
The first step in your conversion then should be with a purchase of our Atoll Boards Universal SUP Kayak Seat.
This easily adjustable and removable seat provides a comfortable backrest on your board for extended paddling sessions in the water. This padded paddleboard seat and backrest will keep the adventurer in you comfortable during those all-day water excursions. And it can even be transferred to other paddleboard brands given the correct D-ring configuration.
Once you have the seat, the process to attach is simple. Place the seat towards the middle of the board (where the handle is) and attach the appropriate straps to the D-rings in the front and back of the seat. Make sure to adjust the straps accordingly to make sure the backrest stays up properly.
Once the seat is properly in place, our next configuration is on the paddle.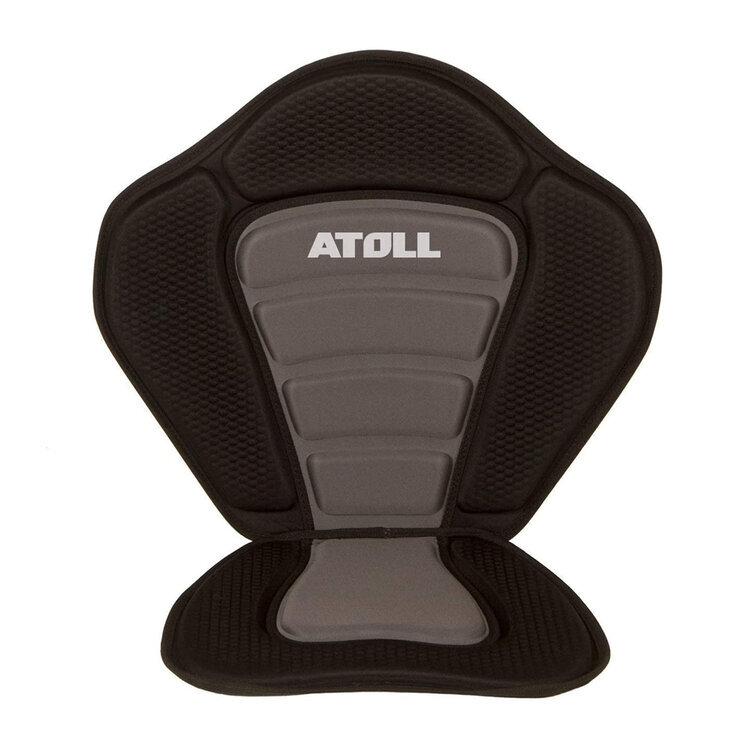 If you are familiar with kayaks, you might know their paddles have two blades- one on each end to enhance the paddle stroke and propel you quickly through the water.
And of course, a SUP paddle only has one blade.
Now, we aren't saying that you can't paddle your kayak with a SUP paddle, but just know it can be a bit tiresome and clumsy especially if you are paddling distance.
That is why we have created the Atoll Kayak Paddle Adapter. This is the quickest and easiest way to convert your SUP paddle into the perfect kayak paddle.
All you have to do is detach the handle of your standard Atoll paddle and swap this on. The strong fit will give you a blade on either end of your paddle and allow you to propel yourself in the water with ease while sitting.
And as a bonus, this kayak paddle adapter will fit into your standard Atoll backpack and fit alongside your standard paddle for easy use during travel!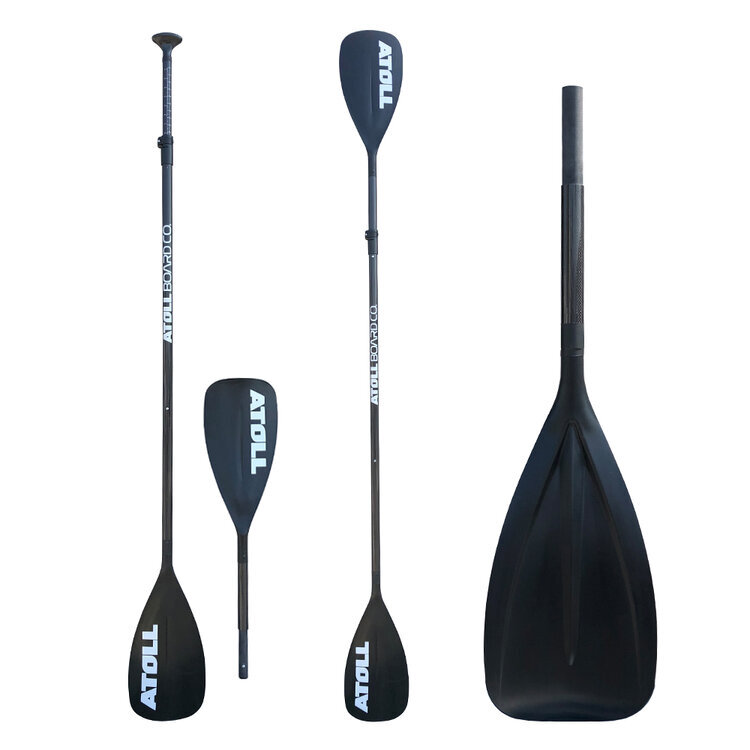 Why Convert Your iSUP Into a Kayak?
A new level of freedom.
Both of these accessories are cost-effective compared to purchasing a new kayak, easy to store and travel with, and will give you the flexibility to easily transform your Atoll iSUP into a fun kayak.
This is perfect for a treacherous time on the whitewater or for a leisurely paddle in a lake or the ocean. Or, if you have a friend who prefers paddling a kayak, you're covered there as well.
Conclusion
As we stated earlier…
The Atoll team is primarily about adventure, freedom, and flexibility. And with the ability to transform your iSUP into a kayak, you can easily extend your adventures to places unknown and taste the freedom of flexibility to own both a kayak and SUP in one.
If you need help deciding if this is the route you should go, drop us a message HERE! We'd love to hear from you. In the meantime, keep adventuring on.