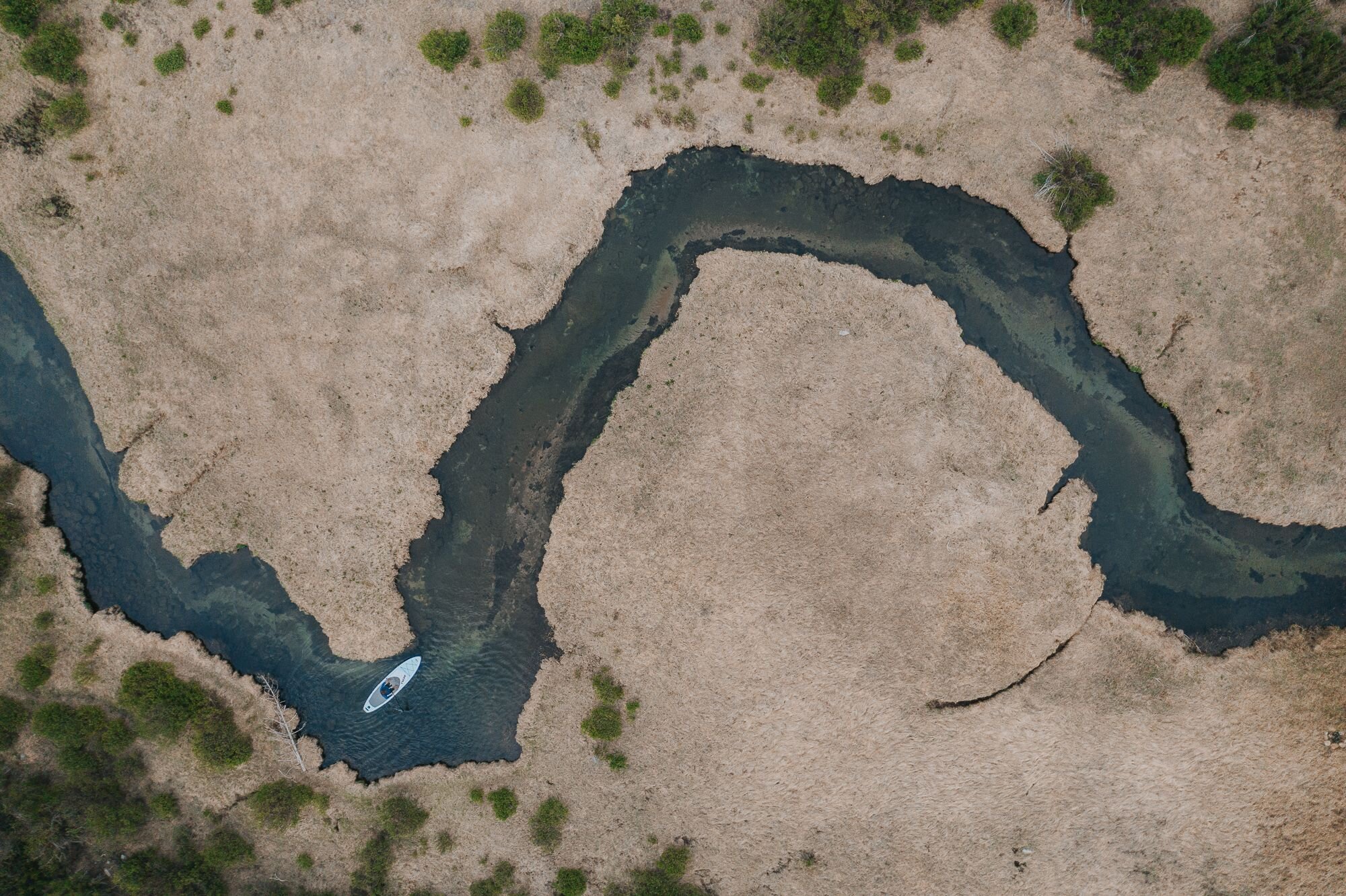 In this article we discuss if you can take your iSUP whitewater river paddling. And what is the best inflatable paddle board for rivers!
———————
The sun shines through the trees dotting the river bed. On your SUP, you can see the shore move quickly past as you glide. The wind is circulating through your helmet, your clothes, your PFD, and it feels good. Close by, your friend gives a hoot as you both hit the class III rapids section of the route. Balance is key here. You twist and turn your paddle, move your feet slightly to maintain your posture, and allow the momentum of the water to shoot you through the rocky section. You smile. And allow the last of your thoughts of other places, of other people, and to-do lists to evaporate from your mind. You're in it now. In this moment. And it's a blast.
Does that sound like fun to you?
It definitely does to us.
But that's the magic of SUP – the versatility with which you can take your paddling practice to different environments creates a brand new adventure every time you decide to go.
And this week, we're discussing river paddling with a strong eye on whitewater river paddling.
Ready to learn about your next adventure?
Let's get to it!
Know Before You Go
River paddling can come in different forms. It all depends on your level and the class of rapids the river has in store for you along the route.
Usually, before you head out, you can find information about the type of river you plan on paddling by doing a quick Google search or by talking to a local shop or park ranger.
Each river and its rapids are classified as follows:
Class A – Lake water. Still.
I – Easy.
II – Moderate.
III – Moderately difficult.
IV – Difficult.
V – Extremely difficult.
VI – Extraordinarily difficult.
Where you decide to paddle is completely contingent upon your skill level. Most paddlers will stick to Class I – III. With II being the sweet spot between fun and challenging.
If you are brand new to paddling in any moving water, let's say you've never been on a river or the ocean, we highly suggest you stick to Class I. This classification has a moving without the dangers of whitewater or swiftly moving water.
This class is a great way to get experience and build upon your skills in river paddling.
And when it comes to SUP we suggest you avoid anything higher than Class IV. Class V-VI is most likely impossible to maintain a standing position on the board for any amount of time and is relegated to those extreme whitewater paddlers in their rafts.
If you think you have the skills, choose a Class II and work up from there! Knowing the classification of the river you plan on paddling is the first step towards having a successful trip.
The Proper Gear
Okay, you know the river you're heading out on, what's next? Well, there are a couple of next steps we suggest. First, make sure you have the correct gear — including knowing what is the best inflatable boards for rivers.
Which classification you decide to paddle on will determine the level of gear you'll need. If you plan on sticking to Class I, we suggest carrying with you the usual safety gear – namely a SUP PFD, a strong leash, and proper clothing. If it's cool outside or if the water temperature is still cold, we suggest wrapping up in neoprene, whether it be a top, pants, or a full suit.
Some river paddlers enjoy the flexibility of a dry suit but they can be pricey.
Anything higher than Class I and we're into the extra gear you'll need – a helmet, strobe light, and safety whistle, along with a PFD and strong leash.
These are all meant to provide you with an extra layer of safety and can indeed save your life if you find yourself hitting rocks or being separated from your board.
One pro tip that can easily be overlooked. Be sure to swap out the standard fin you have on your SUP for one made specifically for the river. These tend to be smaller in length and can even come in a retractable option.
With a standard fin, you are likely to hit debris and rocks in the water and this will cause you to lose balance and fall into the water. If you are practiced enough, you may be able to maintain balance and paddling discipline without the center fin at all and maintain decent tracking with the two standard side fins.
Along these lines, it's important to always have the best inflatable boards for rivers. An inflatable SUP like your Atoll 11' iSUP as your primary mode of transportation.
Pro Tip from an Experienced Whitewater Atoll Owner
Purchase a river knife if you plan on paddling intense whitewater sections.
In some instances a leash can be more of a danger than a help. It can get wrapped around debris, fallen trees, or even around your own legs or neck. And while there is a quick release velcro on our Atoll leashes, in the chaos that is whitewater this easy-to-release strap might not always be available to grab.
If this is the case, the best thing to do is carry a river knife somewhere on your chest or arm. Or in any other place that is convenient for you to grab should the need arise to cut your leash or even the bungees on the front of the board in case of an emergency.
Just an extra helpful tip from a 7-year experienced whitewater river guide!
Inflatable iSUP
Why is an Atoll the best inflatable boards for river paddling? Durability.
Sure those carbon fiber or fiberglass boards might look good paddling flatwater or catching some waves, but a river is a whole different beast.
In a river, you're constantly bumping into obstacles such as river rocks, downed trees, and other debris. It's this fact alone that you will need the tough durability of an Atoll board instead of a fiberglass shell that will easily chip, crack, or even break under similar conditions.
With your Atoll inflatable and its legendary durability underneath your feet, you can bounce off any obstacles and keep moving!
The Right Guide
One huge determining factor on whether or not you will be successful your first time out can be solely laid at the feet of the guide you choose to take you out – that is, if you choose to head out there with one (and we highly suggest that you do).
There are plenty of people offering lessons in almost every major area in the United States. But if your goal is to hit the whitewater and have fun while doing it, you are going to need someone qualified to teach you. Show you the correct movements. And of course, tell you where to go to avoid any of the most dangerous stretches of the route.
You can probably find one in your area offering lessons, but as a quick example of what to look for, check out The River SUP Guy located in Northern California. If you're in his area, be sure to reach out to him!
And if you're not, then use his webpage as an example of someone to look for who will be able to guide you on the water!
What to Expect
…the unexpected. Especially if you are brand new to this activity on a SUP. Paddling in moving water is not something that you can prepare for. You just have to do it. And if you suck, if you fall, can't maintain your balance, don't be discouraged! Almost everyone struggles when it comes to something brand new. Just keep getting back onto your board and trying. That's really the only way you will become a successful river paddler!
And it's worth it! The feeling of adrenaline. The excitement. And the pure jubilation when you hit a stretch of whitewater and maintain balance through the section is indescribable. We cannot recommend it enough! Just be sure to remember these few guidelines to make your time out there a success.
Conclusion
Ready to give it a shot?! We hope so. If you are brand new to the activity, reach out to an experienced guide. They can help you navigate the awkwardness of being a beginner. With their expert teaching and armed with the best inflatable boards for rivers (an Atoll iSUP), you're destined to have the best time you've ever had on the water.
Questions? Comments? Hit us with a reply! Our inbox is always open!