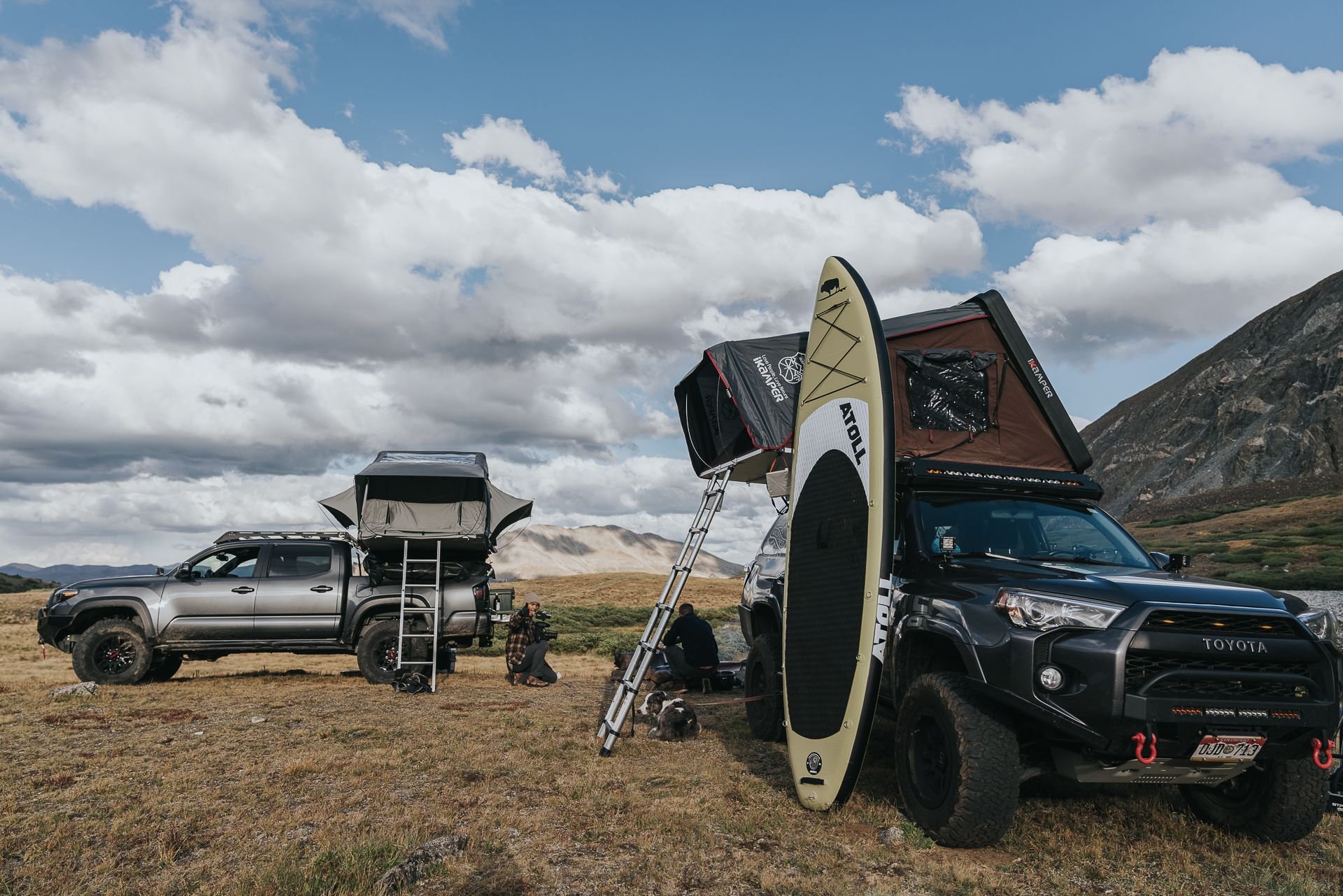 Do you want to experience a camping SUP trip with your Atoll board? Use this camping gear list to make sure you don't forget anything before you head out!
———————
The open road.
The one place where you can taste freedom.
On the road you have nothing to worry about except if there is enough gas in the tank, enough snacks within arms reach, and how much longer until you reach your destination.
This is the time to truly discover the natural world with limitless possibilities.
Have you ever considered packing an Atoll iSUP in your vehicle and heading to parts unknown?
If so, we encourage you to turn this dream into a reality. And do it as soon as possible. We guarantee you will not regret the time you spend in the world, discovering new parts, making new friends, and paddling in foreign bodies of water.
How do we know?
Well, the team at Atoll Boards is experienced. We've been on a few road trips in our time and with our Atoll iSUP's along for the ride. And we can tell you firsthand, it's an amazing time.
Through these experiences we've learned a TON. From where to go, what vehicles to take, what food to snack on to stay healthy, and more!
And while we may discuss these other topics at some point in the future, today we want to go over our tried and tested comprehensive gear guide that will get you from point A to point B…
With a huge smile on your face.
As we've stated, this list is comprehensive. Start here and work backwards. You might not need everything on it. Especially if you don't plan on camping while on your trip. So, take what you need and discard the rest.
And if after reading you see that we maybe should implement a piece of gear that we might not know about, let us know! We're always looking for additional information to make your time on and off the water the best it can be.
With all that said…
Let's get into it!
Road Trip + Camping Gear List
Electric Jack
While most vehicles these days come with a standard jack, we highly recommend an electric jack that you can plug right into your dash in case of a flat tire.
We know, it sounds like a luxury on this camping gear list. But trust us, after a few flat tires on the road, it's way easier to plug it in, push a button, and watch your vehicle rise without ever having to break a sweat.
Changing a tire is difficult enough, use this to make it a bit easier.
Emergency Car Kit
These days, companies make kits that include jumper cables, roadside reflectors, gloves, whatever you need to use while stuck on the side of the road. Grab one if you don't already own one!
Emergency Flashlight
While we've already listed a headlamp on our camping gear list (see below) for paddling and camping, it is always a great idea to carry a powerful flashlight with you as well. Headlamps are great for close quarters. An extra flashlight is even better if you need to see into the distance.
Charging Cable
Keep your phone charged up! You'll need it for GPS, staying in contact with friends and family, and taking sweet pics!
Quick-Dry Towels
Regular towels work just fine. But a quick dry towel can be used and reused in a matter of minutes, especially if you leave it out in the sun. We recommend picking one up and adding it to your camping gear list!
Flip Flops
These are hands-down the most convenient form of footwear for the road. Easily slide them on and off at any point. Wash them off without any worries.
Coleman Burner
Coleman burners are the best for cooking at your campsite. They are easy to light, maintain, run on small cans of butane, and will last for years on end. We highly recommend grabbing one and putting it as a priority on your camping gear list especially if you plan on cooking outside.
Knife
A knife is one of those things that you might never use on the road. But if you happen to need one, you wish you had packed it. Always grab a nice camping knife that can be used when the situation calls for it.
Solar Shower
These are great if you plan on staying in the wild. It's always nice to have a way to clean up at the end of the day and these pack tightly so no need to worry about space.
Rain jacket
You never know when the weather might change!
Cooler
Hard coolers are the best for the road. Especially since you can pack it onto your Atoll iSUP when on the water, use it as a seat, and can attach fishing rods to the outside in case you want to do some paddle board fishing. They're also great for carrying and transporting your hydration. This is an essential item on our camping gear list.
First Aid Kit
Band-aids, bandages, antiseptic. All very important items.
Hand Sanitizer
It's 2021. At this point we probably are all very aware of where to get some hand sanitizer and when to use it. But it's a great idea to carry some in your vehicle for when you have to take that road side stop at the gas station. Trust us, some of those bathrooms are not very pretty!
Wet Wipes
These are fantastic for when you need to clean your body and don't have the ability to hop in the shower or use your solar shower.
Sleeping Bag
Always grab a sleeping bag that is rated for the weather you plan on camping in. The warmer you are, the better.
Tent
One word: waterproof. Make sure your tent is waterproof. The weather can be unpredictable. And there is nothing more frustrating than trying to sleep while you're soaking wet. Always add a high-quality tent to your camping gear list. You won't regret it.
Bug spray
We don't use this often, but when the mosquitoes are biting, it's better to have some than not.
Fire Starter Kit
If you are camping and want to start a fire, skip the Bear Grylls impersonation. Instead of rubbing two sticks together, light one up with ease.
SUP Gear List
SUP Board
While a SUP board might not be the first thing on everyone's camping gear list or road trip list – it should be on yours! Why? Because with an Atoll iSUP you can pack it in its carrying backpack, throw it in your car trunk or in the bed of your truck and explore new bodies of water along the way! If there is one thing that will enhance your ability to explore while on the road, it's an Atoll inflatable paddle board. Make sure you add it to your SUP gear list.
Fin
The stock fin that comes with each Atoll board is great for almost every paddling environment you're likely to encounter while on the road. However, if you plan on heading into any rivers, be sure to check out our flexible river SUP fin for an option that will allow you to paddle in shallow water without causing any damage to your fin or your fin box!
Paddle
You can't get very far without a paddle! Pack up our Atoll three-piece paddle in the carrying backpack. Stores easily and is durable enough to be thrown around without breaking.
Pump (Hand or Electric)
Our favorite inflatable pump has to be the Outdoor Master Shark II. It's lightweight, easy to use, and will pump up an Atoll board in a matter of minutes. Of course, if you don't have one, the stock hand pump packs nicely in the backpack.
Our suggestion – carry both! One for home base inflation near your vehicle and the other for when you want to take your Atoll iSUP off the beaten path with the backpack and explore somewhere new. Nothing better than a little flexibility on your SUP gear list.
Leash
Always carry and wear a leash. Your inflatable paddle board is your biggest flotation device while on the water. If you remain tethered to it, you always have something to grab onto in case of an emergency.
PFD
Personal flotation device. A belt PFD is the most comfortable option while on the water. And it is the easiest one to pack away given its size. Like a leash, no matter where you go on the water, always wear a PFD for personal safety.
Whistle
Safety whistles are important for signaling when you are in danger. The loud pitch sound cuts through the ambient noise of the outdoors to signal to others that you need help. Always carry one with your PFD and make sure you add it to your SUP gear list.
Dry Bag for Cellphone
While a cellphone is great to have to take pics while on the water, it can also come in handy if you need to contact someone in case of an emergency. If you keep it in a dry bag, it will stay in great working order. This is a SUP gear list priority.
Compass
This is a just in case item. In case you get lost on the water, it is a great idea to have a compass with you to know which direction you need to head in order to return to your launch spot.
But even better than a compass…
GPS
Having a waterproof GPS on board will allow you to track where you launched from, how much distance you have covered, and where you need to go in order to return back to camp.
Hat
Keep the sun off your face with a wide-brimmed hat. This is a great way to save yourself from sunburn especially if you don't enjoy slathering on sunscreen. Always a priority on your SUP gear list.
Shades
We've found sunglasses that float are the best option. For obvious reasons. We may or may not have had a pair fo Ray Bans sink to the bottom of the ocean. Very sad.
Bottle of Water
We suggest grabbing a reusable water bottle instead of buying a case of plastic bottles. You can often find places to refill on the way at gas stations or grocery stores.
Repair Kit
Always make sure you bring the repair kit that is included with your Atoll. While damage of any sort is often very rare, in the off chance you have a small leak, you can repair on site and keep on paddling.
Not sure how to repair your board? Check out our past article entitled, "How to Patch Your Inflatable Atoll iSUP."
Duct Tape
Duct tape can come in handy for many reasons. You never know what they are until you need it! We always like to keep it tucked away somewhere in our vehicles just in case.
Headlamp
These are great for night paddling. Or if you find yourself paddling towards sunset and need the extra light to make your way back to shore. They're a great way to see while still keeping your hands free.
Wetsuit/Drysuit
This is weather dependent. If it's late fall, early spring, or the dead of winter, you will have to be paddling with some form of protection. In order to know what you might need we suggest checking out our past article entitled, "How to Dress for Cold Water Paddling (Even if You Don't Have a Full Wetsuit.)"
Water Shoes, Booties, and Waterproof Socks
Again these are weather dependent. However, we always like to keep a pair of booties on hand just in case the terrain around the launch point is full of sharp rocks, oyster beds, or other debris. Very handy!
Sunscreen
This one is obvious. No need to ruin your trip with a bad sunburn! Always look for a company that is natural (good for your skin) and biodegradable (good for the Earth).
Snacks
Trail mix for the win! A nice solid bag of trail mix full of protein packed nuts, seeds, and dried fruit has saved us many times from feeling a drop in blood sugar when we've gotten caught up in the fun of paddling somewhere new!
Apps
There are a few apps that are great for paddling in order to know the wind and the weather no matter where you are.
To see a list of our favorite ones, check out these two articles:
Top 6 Paddle Boarding Apps You Need This Summer
Use these to know the conditions while paddling.
Top 7 Apps You Need For Your Summer SUP Camping Trips
Use these to book places while on the road – campgrounds, hotels, etc.
Conclusion
Ready to hit the road? Before you do, if you have any questions, please feel free to ask! As we've said, we have been on a few road/camping trips in our day and the best way to be prepared for whatever may come is by talking with someone who is experienced. Drop us a message at anytime. And remember to always adventure on!